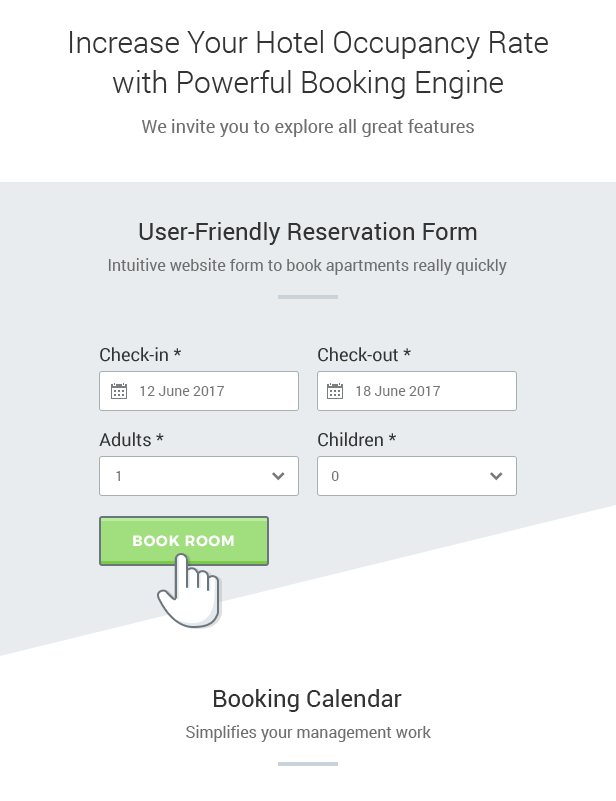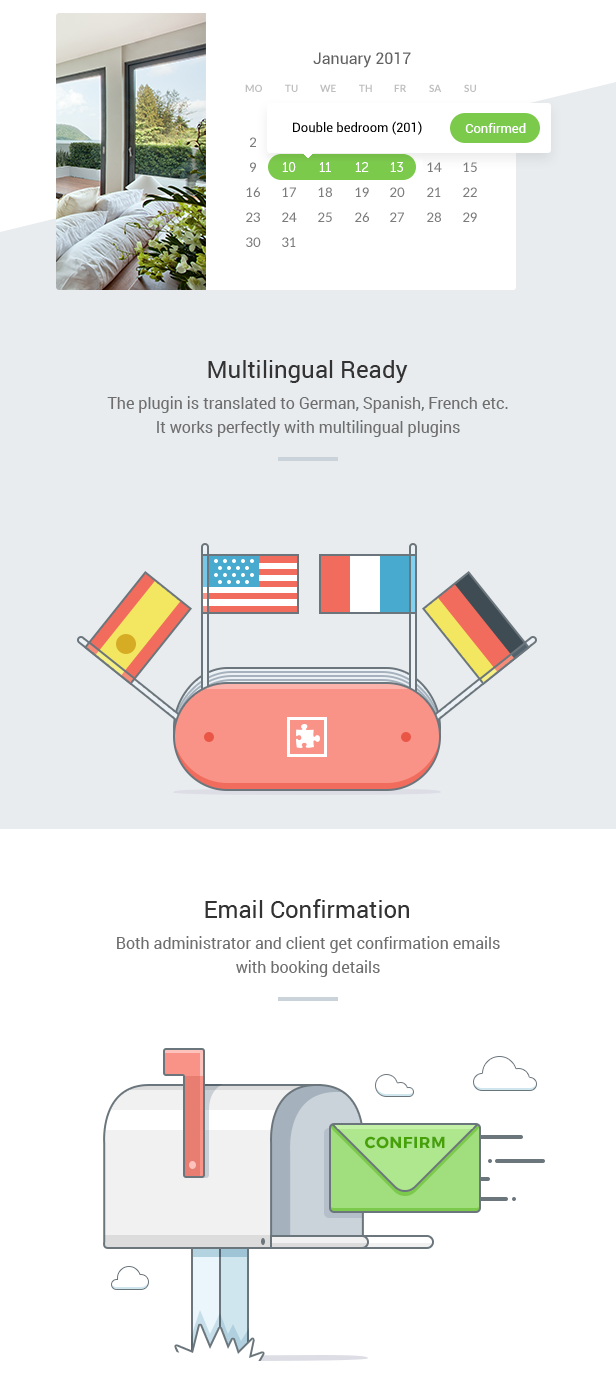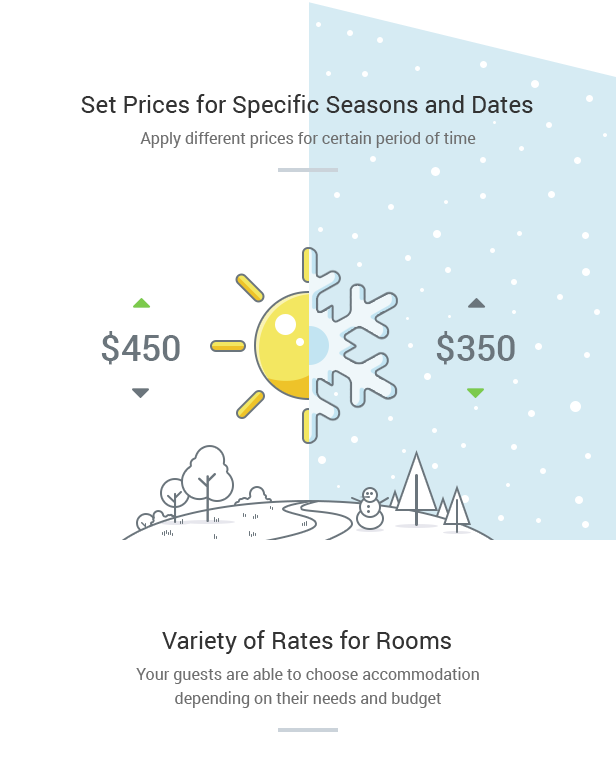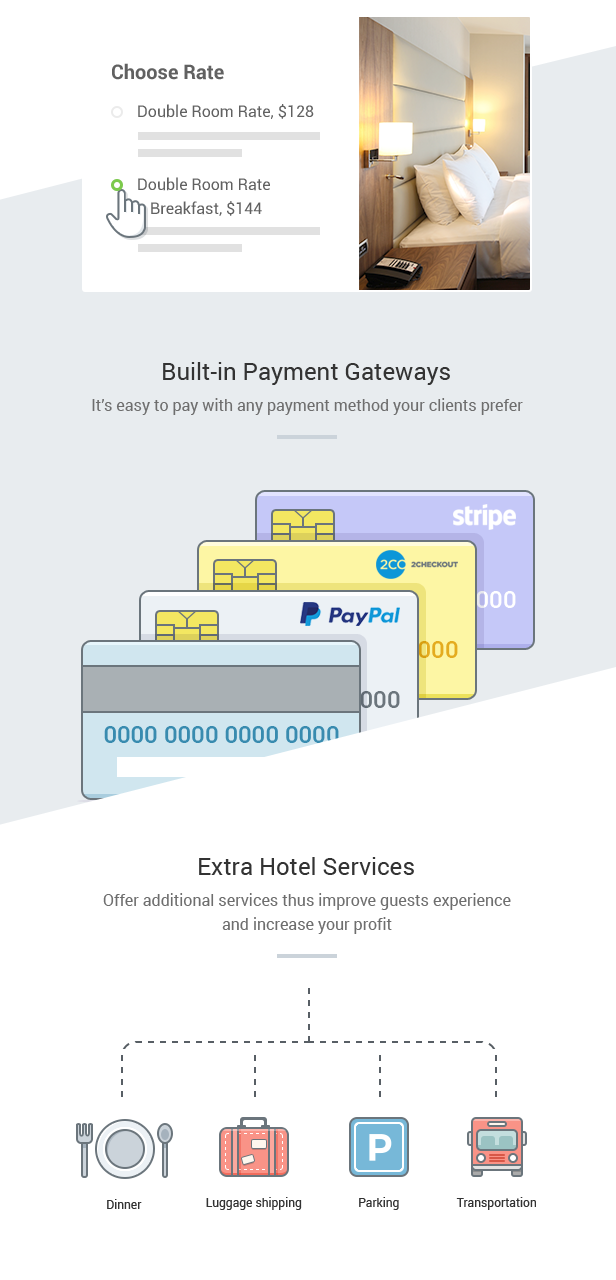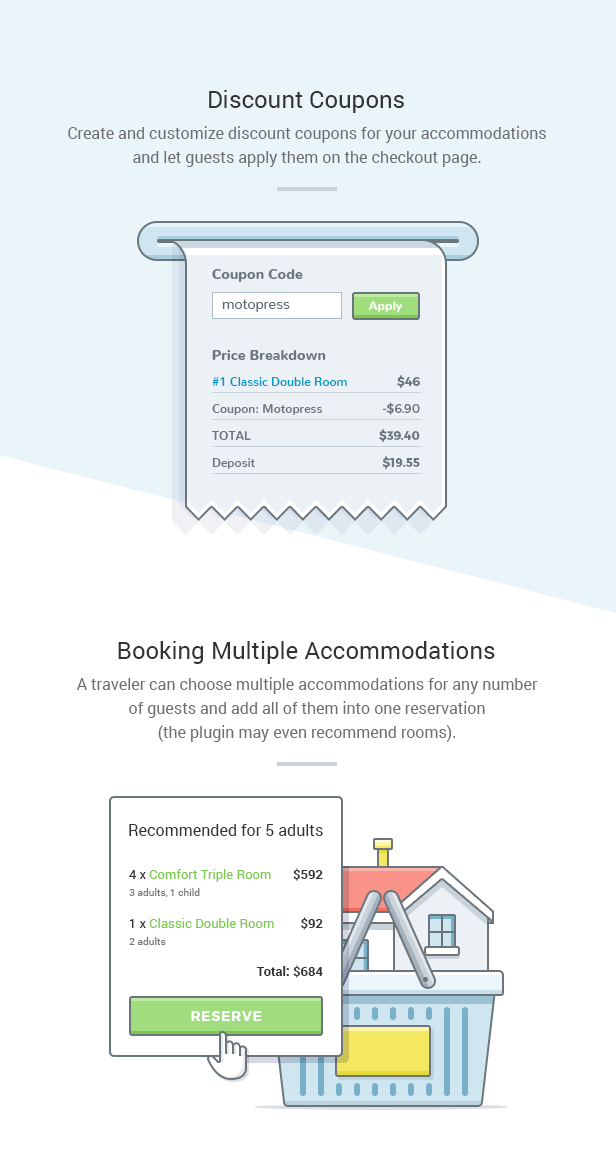 MotoPress Hotel Booking plugin for WordPress was designed to cater the needs of busy hoteliers, who wish to create more demand for their hotel establishment by implementing a professional hotel booking system.
You may use this plugin for different types of hotel establishment no matter of size, function or cost – big and middle size hotels, guest houses, villas, hostels and other types of real estate.
It's a two in one tool – list all your hotel rooms and let your guests book them. As the accommodations are added via the plugin, you get rooms listing and reservation system in harmony with each other and with your theme design.
Key plugin features:
Responsive design
Simple and stylish content on each screen size.
Search availability form
A clutter-free form that can be put to whatever place you like on your site (including sidebar). Let users search for a needed accommodation type for a needed date in a matter of clicks.
Reservation form
The plugin provides a no-brainer accommodation booking process for desktop, tablet, and mobile users, no matter their age. Availability calendar, personal data to confirm reservation, rates, packages – everything is easily submitted.
Unlimited number of accommodations
Add and display unlimited number of rooms of your hotel establishment. If there are lots of them of the same type, generate them automatically with ease.
Accommodation details
Display description, image galleries, in-room amenities, rates, extra services and more on the individual accommodation page to serve sophisticated guests' needs.
Seasons
Boost your hotel revenue with smart pricing strategy – base your prices on dates, apply them in clicks and change when you want.
Rates
Set different rates depending on your policy and benefits offered for an individual accommodation. Your guests will choose the most suitable while placing a booking.
Packages and services
Add any extra service or package available for additional purchase or offered for free to the booking placement page. Charge per room or per person.
Confirmation modes
Define how to confirm the booking – automatically or manually, with or without payment.
Custom booking rules
Make your accommodations unavailable for booking at particular dates/days.
Online and Offline payments – PayPal, 2Checkout, Stripe, Braintree, Beanstream/Bambora etc.
The booking system accepts payments through PayPal, 2Checkout, Stripe, Braintree and more. You can also charge the full fee or deposit to confirm the booking. With offline payments you let guests pay after arrival to your hotel.
Email notifications
Receive and send automatic notifications of each booking request – approve and cancel submissions via email. Easily customize content and design of your email templates to reflect your brand.
Multilanguage support
Translate the plugin to your own language to be appropriate for your local business.
Actions and filters
Developers can change the behaviour of the plugin with a pretty rich list of hooks listed in documentation.
Changelog
= 2.1.0 =
Added the ability to create and apply coupon codes.
= 2.0.0 =
Note: This release will perform an upgrade process on the database in the background.
Note: This release adds new macros for email templates. Update your templates please. To reset an email template just remove the current text and save settings.
Note: This release doesn't limit the number of adults and children in the Search availability form. Please update "Max Adults" and "Max Children" number in plugin settings.
The updated plugin allows guests reserve and pay for several (more than one) accommodation types during one reservation process.
Search results page was updated: guests can choose and add several accommodation types into one reservation.
On the search results page, the plugin displays all recommended accommodations according to the number of guests specified in a search request. This option can be turned off.
Email templates were updated to support Multiple booking.
Admin page descriptions were updated to ease the work with the plugin.
Bug fix: fixed the issue with saving check-in and check-out dates in Settings.
Improved compatibility with Jetpack gallery and lightbox modules.
Added a theme-friendly pagination option that allows specify the number of posts per page for accommodations and services.
A cancellation email template is available as a separate macro – it's used when a booking cancellation option is turned on.
A Price Breakdown Table on the Booking confirmation page was updated: it's now smaller with the ability to expend details of each booked accommodation.
Updated the list of data your guests are required to provide when submitting a booking. Admins can set it to: no data required / country required / full address required. Please choose the preferable option.
15 new themes were added to calendar to fit your theme design much better.
New filters, actions and CSS classes were added for developers.
= 1.2.3 =
Added the ability to receive payments through Beanstream/Bambora payment gateway.
= 1.2.2 =
Added the ability to receive payments through Braintree payment gateway.
= 1.2.1 =
Bug fix: fixed the issue of undelivered emails after booking placement.
Bug fix: fixed the issue of booking calendar localization.
= 1.2.0 =
New algorithm of displaying accommodation pricing:
- it displays minimum available price of accommodation for dates set in the search form by visitor;
- it displays minimum available price of accommodation from the day of visit and for the next fixed number of days predefined in settings (if dates are not chosen by visitor);
- it displays a total price for chosen dates or the price of "minimum days to stay" set in settings.

Added the ability to create a payment manually. Usefull feature to keep all your finances in one place.
Added the ability to search booking by email or ID in the list of bookings.
Added the ability to filter payments by status and search them by email or ID in the list of payments.
Added a new email template to notify Administrator about new booking, which is paid and confirmed.
Added the ability to enable comments for accommodation and services on the frontend.
Thumbnail size of accommodation gallery is set to 'thumbnail' to make all images the same size.
Bug fix: fixed an issue when rates list displayed rates in the past on the frontend.
Bug fix: fixed an issue when price of the service was displayed twice.
Added new Arabic language files.
= 1.1.0 =
Added the ability to receive payments through PayPal, 2Checkout and Stripe gateways.
Made the plugin multilingual ready.
Added translation into 13 languages (Portuguese, Polish, Russian, Spanish, Turkish, Swedish, Italian, Hungarian, Czech, Chinese, Dutch, French, German).
= 1.0.1 =
Added the ability to input dates via keyboard
Added the ability to duplicate Rate
Added the ability to choose date format in plugin Settings
= 1.0.0 =