Now 50% ( from $38 ) off till January 31st 2018.
The Most Advanced WordPress Knowledge Base Plugin
Helpie is the most advanced WordPress Knowledge base / Helpdesk plugin that lets you create and organise your documentation / knowledge base for your products and services.
Now, with Frontend Editing.
Helpie Vs Herothemes Knowledge Base
Use Cases:
WordPress Knowledge Base
You can create a limited access WordPress knowledge base for your knowledge customers.
WordPress Product Documentation:
You can use Helpie to create documentation for your product. That could be a technical documentation or a documentation of your product for your end users.
Internal Wiki for a WordPress website
You can create an internal wiki for your team using Helpie WordPress Plugin.
Create a WordPress wiki website like Wikipedia using Helpie
New Features:
Welcome Area Branding :
Customise your welcome area to match your brand. You can choose from Single color, Gradients, background image, Gradient + Vector Illustration.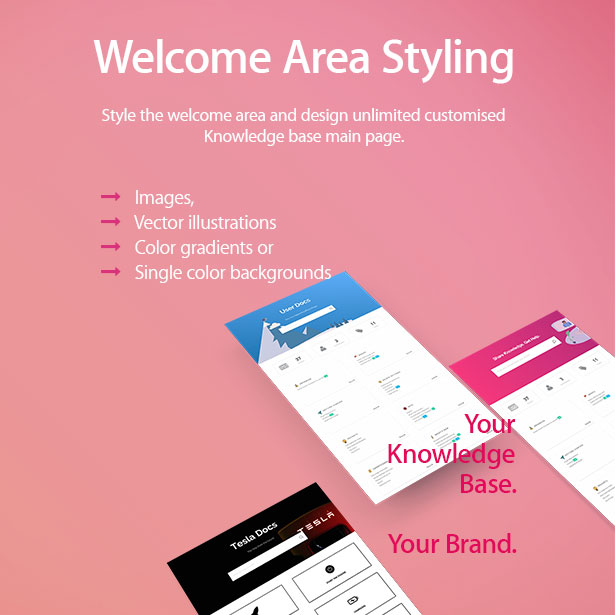 Main Features of Helpie WordPress Knowledge Base Plugin:
1. Search :
Search any wiki article with ajax auto-suggestions. Search works by matching any keyword in the post title, content and tags. Search also automatically hides the articles restrict for the particular user.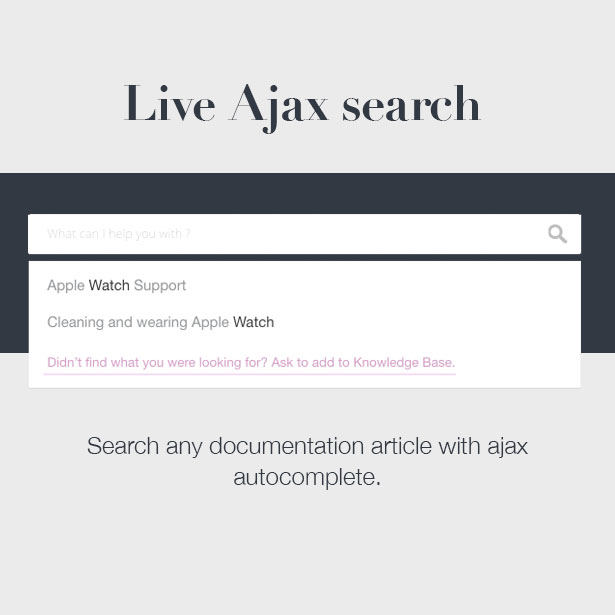 2. Front-end Editing:
Create, edit and delete articles right from the frontend.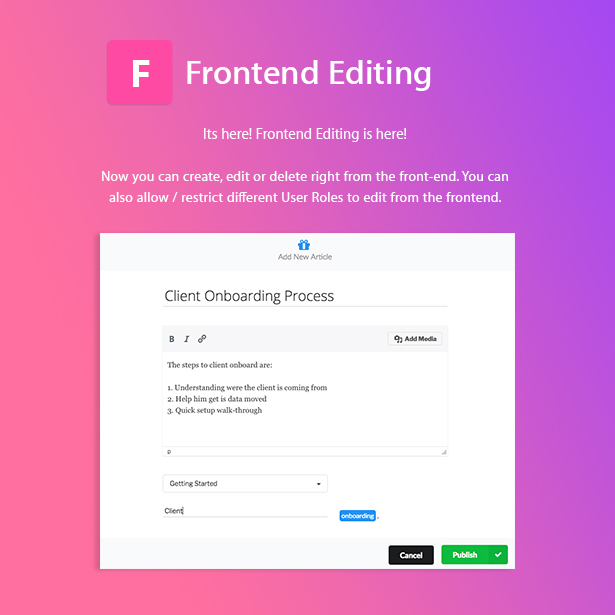 3. Restrict User Access to your WordPress Wiki / Knowledge Base:
Restrict who can access which category of articles. You have options to restrict user access by
i. User Roles:
Select which WordPress user roles can access particular categories your choose. Users without selected roles cannot access the restricted articles nor does it show in the search for them.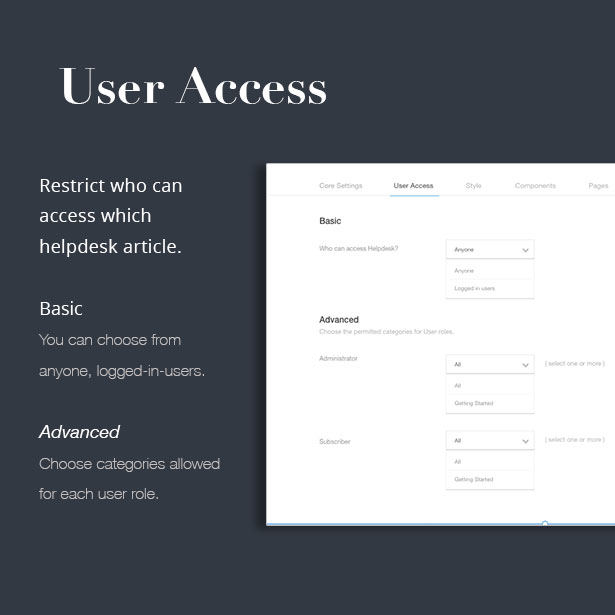 Ii. Password Protection:
Create passwords for specific categories and the user is prompted to enter password when accessing that particular category page or single page of that category. The password protected article links show in the search, but on clicking it, they are requested the password.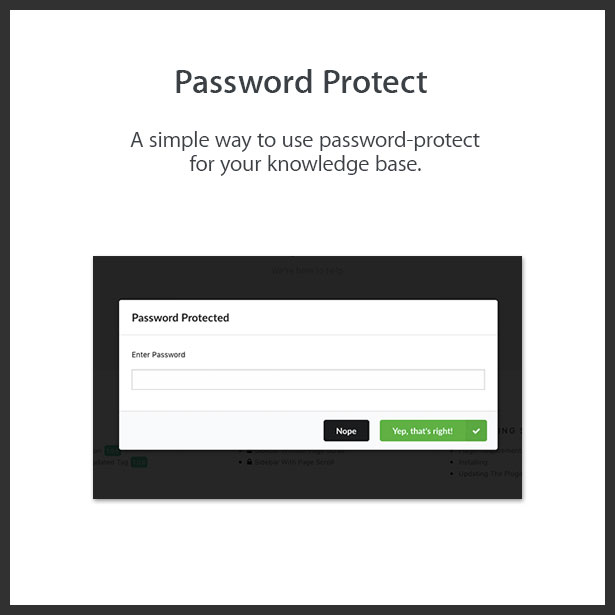 4. Template controls:
Control the main page, category page and single page templates.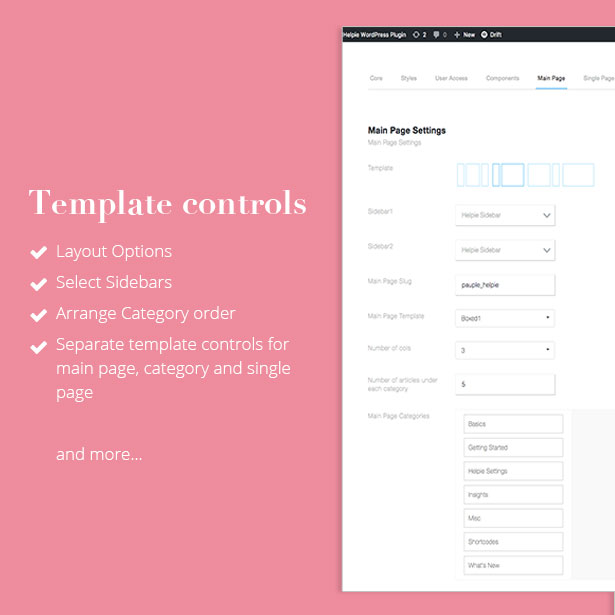 5. TABLE OF CONTENTS with Uber Navigation:
Show a complete Table of Content as the sidebar. Some important table of content features:
Options to show only articles of current Category
Also create in-page navigation using shortcode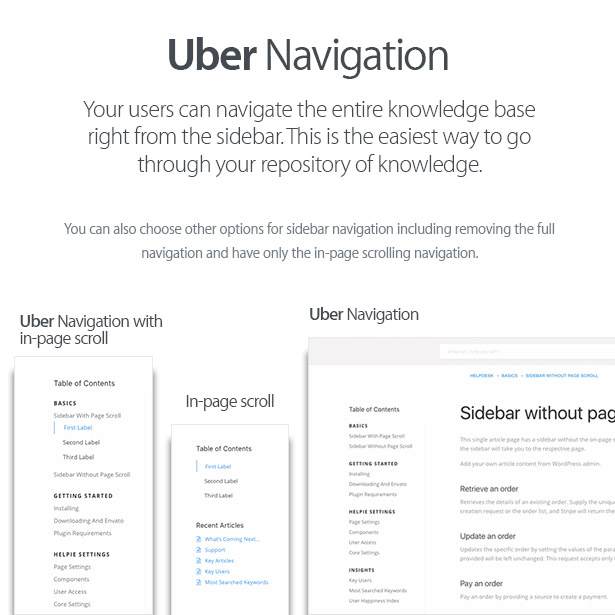 6. Article Voting:
Allow users to vote. There are 2 kinds of voting:
Classic Voting: Thumbs up / thumbs down
Emo-voting: Users can "frown", "meh", "love" the article.

Option to enable / disable non-logged-in visitors to vote.
Edit / Reset the count from the Edit Article page in the WordPress backend.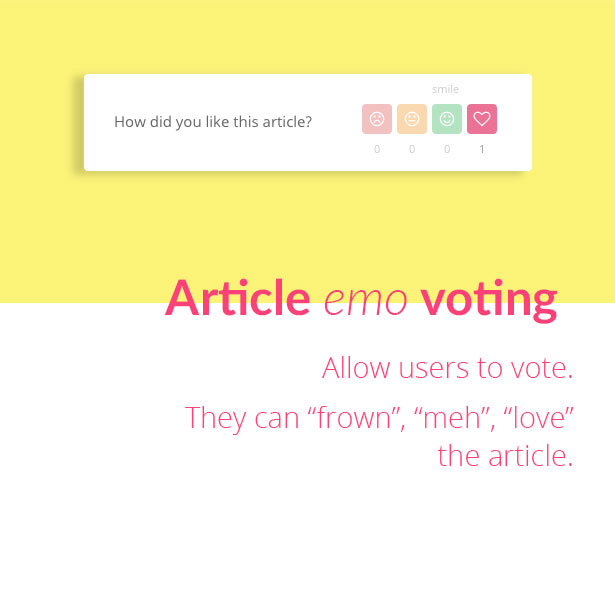 7. Knowledge Base Shortcodes:
Use short-codes to display,
Helpdesk / Knowledge Base / Documentation Page
Knowledge Base Search Module
Knowledge base categories module : Simple, Boxed, Boxed1. ( The 3 templates for main page )
Add CUSTOM ICONS for boxed categories module
Knowledge base welcome area.
Single page scroll navigation titles. See preview for example.
8. Popular posts:.
Show posts which are popular in order of popularity.
9. Breadcrumbs:.
Show / Hide breadcrumbs.
10. NEW TEMPLATES*
2 more Helpdesk Main Page Templates.
Boxed: A Clean module with category name and category icon displayed in a beautifully boxed grid. You can upload any image as a custom icon in the Helpdesk Article Categories page. Recommended dimension is 65px * 65px.
Boxed1: A Clean module with the category name, list of links to a few articles of the category and a more button linking to the category page.
11. Support:
Best Support of any WordPress Knowledge Base plugins
less than 12 hours
Through Email and Live Chat
Ticketing system will be added soon.
12. Very good code quality.
13. Works well and looks good without a separate theme.
14. Works well with any well-coded theme and tested with Avada, X Theme, The7, TwentySixteen and a few others.
15. Fully Responsive and User-centric Design
16. NEW* Insights
User Happiness Score
Most Searched Keywords
Key Users : Most happy users, most unhappy users
Key Articles: Best Articles and Worst Articles
Translation Ready: Support WPML, RTL,
Compatible with WordPress 4.8 and all Major Themes and Plugins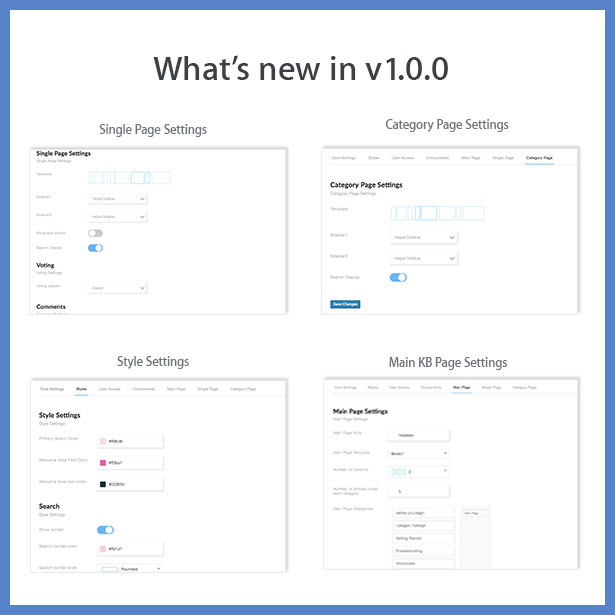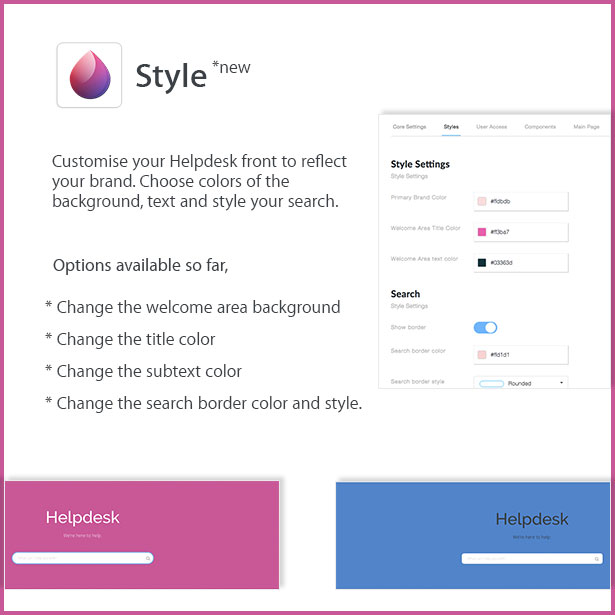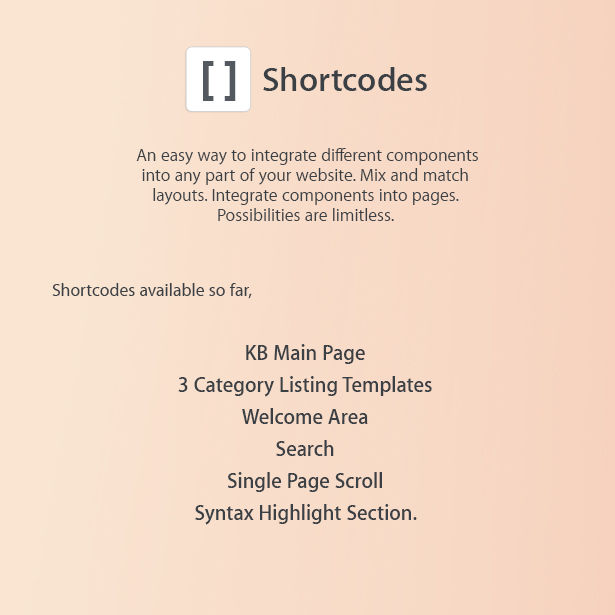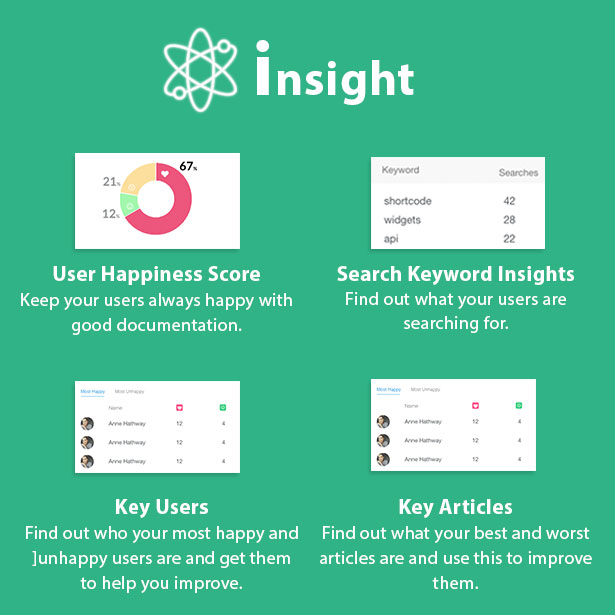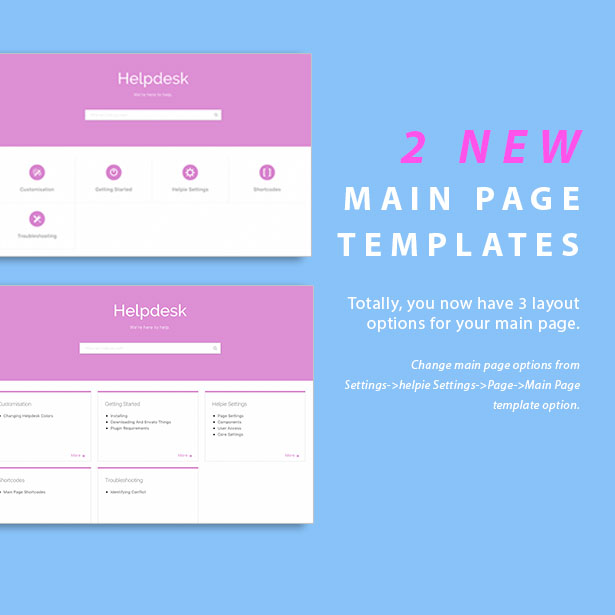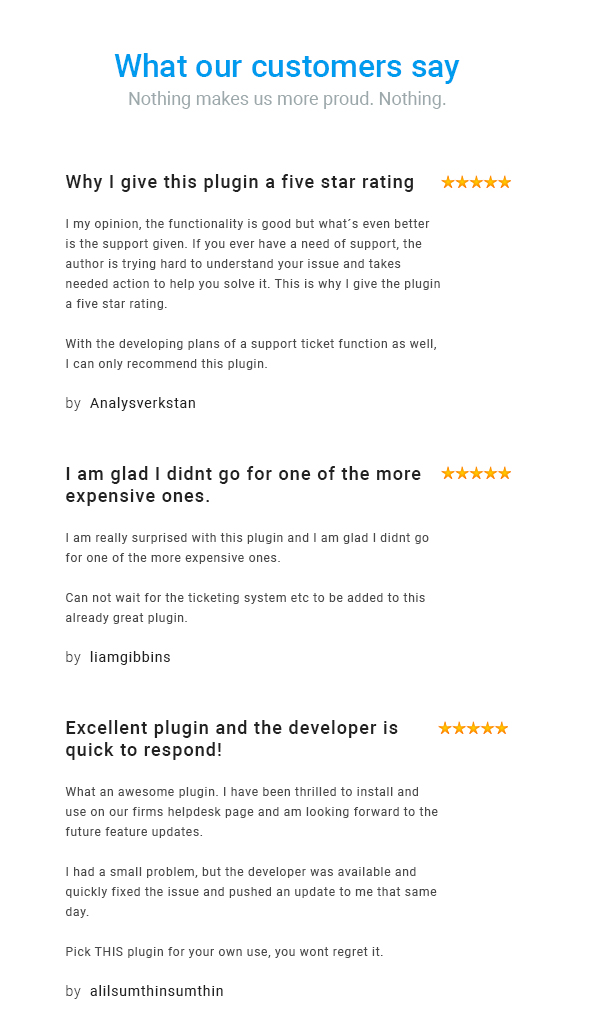 Helpie is an intuitive Helpdesk / Knowledge Base plugin that lets you create and organize your Helpdesk / Documentation / Knowledge Base for your products and services.
More features coming soon.
Feel free to share your FEATURE SUGGESTIONS.
FAQ
How do I update the helpie plugin? So far the simplest way to update the plugin is to use the envato-update-plugins plugin.
Changelog
Version 1.3.5 – Jan 2, 2017
Bug Fix: Fixed an issue where search did not work with WPML plugin
Bug Fix: Password Protect modal did not work with the Categories Listing shortcode
Version 1.3.3 – Dec 14, 2017
Bug Fix: Fixed an issue with Divi header not shrinking
Bug Fix: Fix a warning in PHP 7.1 and above version
Version 1.3.2 – Dec 04, 2017
Bug Fix: Fixed an issue with User Access Controlled categories not showing up
Version 1.3.1 – Nov 28, 2017
Bug Fix: Fixed a issue with table of contents displaying duplicate articles.
Enhancement: New style settings to add margin-top to the Helpie modules.
Enhancement: New Insights – Most Viewed Pages
Bug Fix: Fixed an issue where sidebar did not show more than 5 articles per category
Version 1.3.0 – Nov 17, 2017
Bug Fix: Fixed a conflict with Memberium plugin causing live search to not appear
Enhancement: Ability to translate Helpie Settings input strings with WPML
Version 1.2.9 – Nov 2, 2017
Bug fix: Where the categories list on the main page changed order randomly
Bug Fix: Footer and Modal responsiveness issue in Enfold
Bug Fix: Custom Permalink beginning string ( like '/blog' ) does not affect Helpie's CPT
Version 1.2.8 – Oct 19, 2017
Add option to Enable / Disabled display of "updated by"
Bug Fix: Line breaks disappear from article after they are added
Version 1.2.7 – Oct 5, 2017
Improved compatibility with Elementor WP Plugin
Insights Bug fixes
Version 1.2.6 – Oct 1, 2017
Version 1.2.5 – Sept 26, 2017
New Feature: Gradient for Welcome Area
New Feature: Background Image for Welcome Area
New Feature: Gradient + Illustration for Welcome Area
New Feature: Priority based Search
New Feature: Automatic In-Page Table of Contents
New Feature: Knowledge Base Stats Module
Update: 'Main Page Template' is now called 'Main Page Category Listing Style'
Bug Fix: Sidebar scroll issues including scroll, sidebar width issue and highlight article issues
Bug Fix: Where Post pages UI style was mildly affected in the admin area
Version 1.2.4 – Sept 7, 2017
New Feature : Modern – New Categories List Template
New Feature : Recent Articles Module
Enhancement: You can now click Search icon to search
Enhancement: In Table of Contents, Highlight current article title in single page template and other improvements
Bug Fix : Autocomplete CSS affects global styles
Bug Fix : Remove 'capitalize' in Title text-field of "Add" / "Edit" modal
Bug Fix : Edit Article in Frontend – Character encoding issue
Bug Fix : Capitalize Issue in Categories List
Bug Fix : Helpie main page category Settings are reset when saving settings for the first time.
Bug Fix : User Access : Child term is restricted even if its parent is allowed
Bug Fix: Helpie Add Article Modal not working in mainpage shortcode
Bug Fix: Where saved settings are reset after update
Bug Fix: Frontend Add Media Modal issue
Bug Fix: Where Frontend Editor Edit modal did not show previously added tags
Bug Fix: Where Search auto-suggest alignment is wrong sometimes
Version 1.2.3 – Aug 25, 2017
New Major Feature: Frontend-editing – Add, Edit, Delete articles from front-end
New Feature: New categories are now automatically included ( provided they have articles )
New Feature: Boxed Template
New Feature : Show helpie_tags at the bottom of the single article page
Bug Fix: Fixed Encoded characters in Search auto-suggestion
Bug Fix: Search results page showing wrong results
Bug Fix: Remove all JS logs
Bug Fix: User Access: By default, Allow Non-Categorised article to be viewed
Version 1.2.2 – Aug 8, 2017
New Feature: Search now looks at 'tags' to return suggestions and search results
New Feature: Insights now shows most repeated keywords
Bug Fix: Fix alignment of header in /pauple_helpie/ ( archive url )
Bug Fix: Shortcodes fixed in Elementor, Visual Composer, Divi
Version 1.2.1 – July 27, 2017
Version 1.2 – July 20, 2017
Version 1.1 – July 13, 2017
New Feature: Public users ( people who don't have login ) can now vote. Feature can be turned on / off
New Feature: Search box has been updated to directly go to article on clicking on suggestions
New Feature: You can now change the "Table of Content" to your own title
Bug Fix: Fixed a bug where Shortcodes which caused issues in Divi ( and possibly other page builders )
Version 1.0.9 – July 7, 2017
Bug Fix: Semantic.css adds body style to all pages, especially admin-section
Bug Fix: Multisite conflicts
Version 1.0.8 – June, 2017
Bug Fix: Bug Fix: Password Protect Modal Cookies behaving oddly
Version 1.0.7 – June, 2017
Bug Fix: Password Protect Modal behaving oddly in Avada
Version 1.0.6 – May, 2017
New Feature: Password Protection ( for categories )
New Feature: 'Added' and 'Updated' tags. Use it to mention when the version in which feature was added
New Feature: Auto-updates compatible with 'envato-update-plugins' plugin: https://github.com/wp-kitten/envato-update-plugins
New Update: Moved Helpie Settings from under Settings menu to 'Helpdesk' menu
Bug Fix: Where when viewing a category page the main navigation gets moved to the left
Version 1.0.5 – March 5, 2017
New Feature: Sidebar Category toggle
New Feature: Order articles in the category list
New Feature: Limit number of articles under category in sidebar
New Feature: Visual Composer compatibility
Bug Fix: Content going into footer background in some themes.
Bug Fix: Show custom brand styles in single, category and search templates
Bug Fix: Language switching not working
Bug Fix: Where helpie plugin affected dashboard fonts
Bug Fix: Page scroll doesn't show up in right column
Version 1.0.4 – February 10, 2017
New Feature: Sidebar Category toggle
Bug Fix: Content going into footer background in some themes.
Bug Fix: Show custom brand styles in single, category and search templates
Bug Fix: Language switching not working
Bug Fix: Where helpie plugin affected dashboard fonts
Version 1.0.3 – Posted January 30, 2017
Bug Fix: While changing settings, change some settings it returns "header already sent error"
Bug fix: "Undefined variable pauple_helpie_plugin_version"
Bug Fix: Welcome Area Style settings not applied to shortcode
Version 1.0.2
Version 1.0.1 0 January 28, 2017
Style Settings:
Improved Russian translation, thanks to Michael Kolmanovich.
Version 1.0.0 – MAJOR RELEASE – January 23, 2017
Style Settings:
Change colors of primary brand color, text of welcome area
Search border style
Main Page Settings:
Change the helpdesk slug
Re-order category in KB main page
Limit the number of articles under categories using drag and drop
Choose number of columns
Single Page Settings:
Select templates like, left-sidebar, right-sidebar, no-sidebar, both-side-sidebar
Replace current sidebar with other registered sidebars or use both
Category Page Settings:
Select templates like, left-sidebar, right-sidebar, no-sidebar, both-side-sidebar
Replace current sidebar with other registered sidebars or use both
Version 0.4
Full Documentation Navigation from sidebar
Syntax Highlight and Copy short-code
Major UI Improvements
Loading / Interaction Animations
Version 0.3
Helpdesk Insights
Translation Ready
Compatibility with WordPress 4.7
Minor Bug fixes and UI Improvements