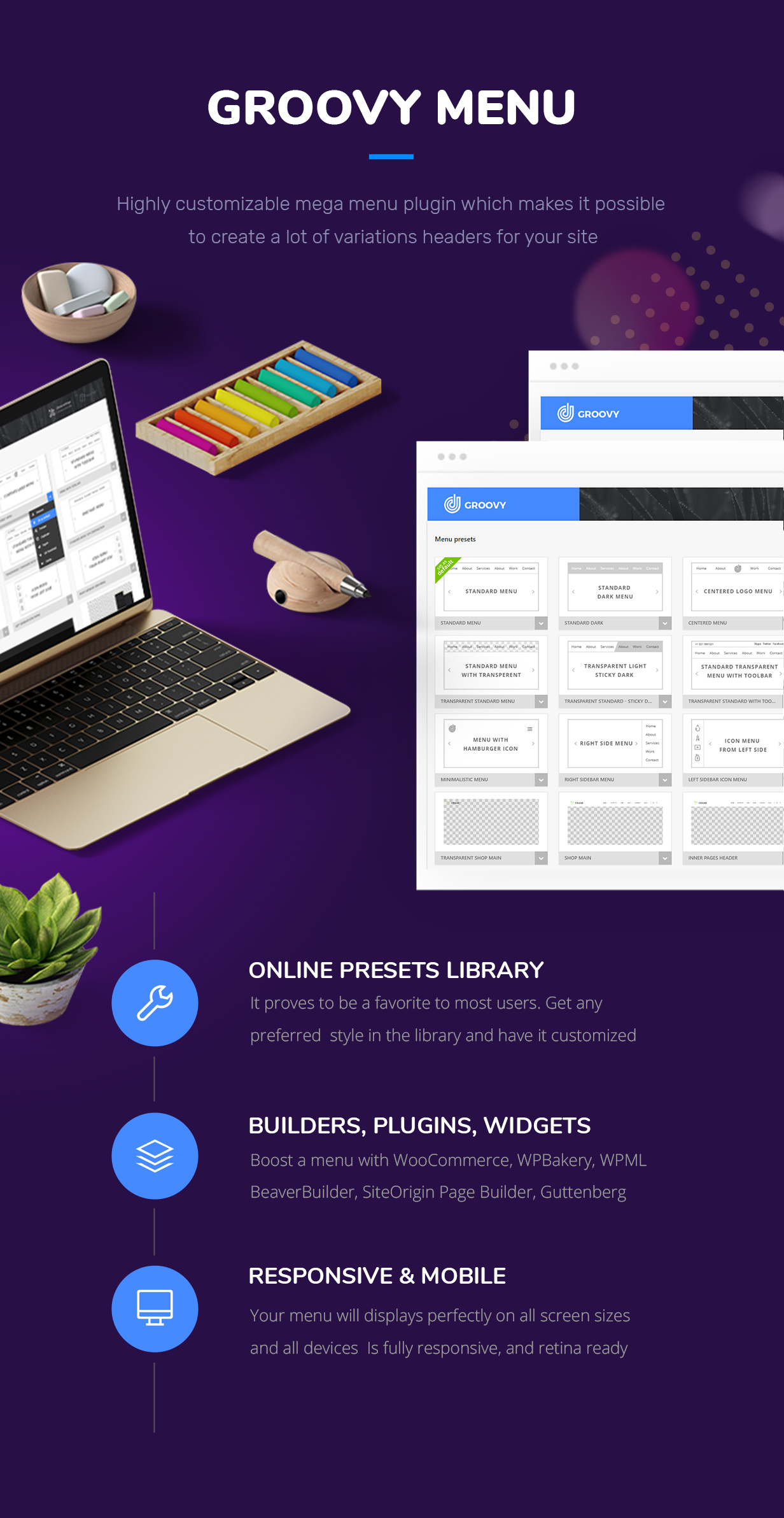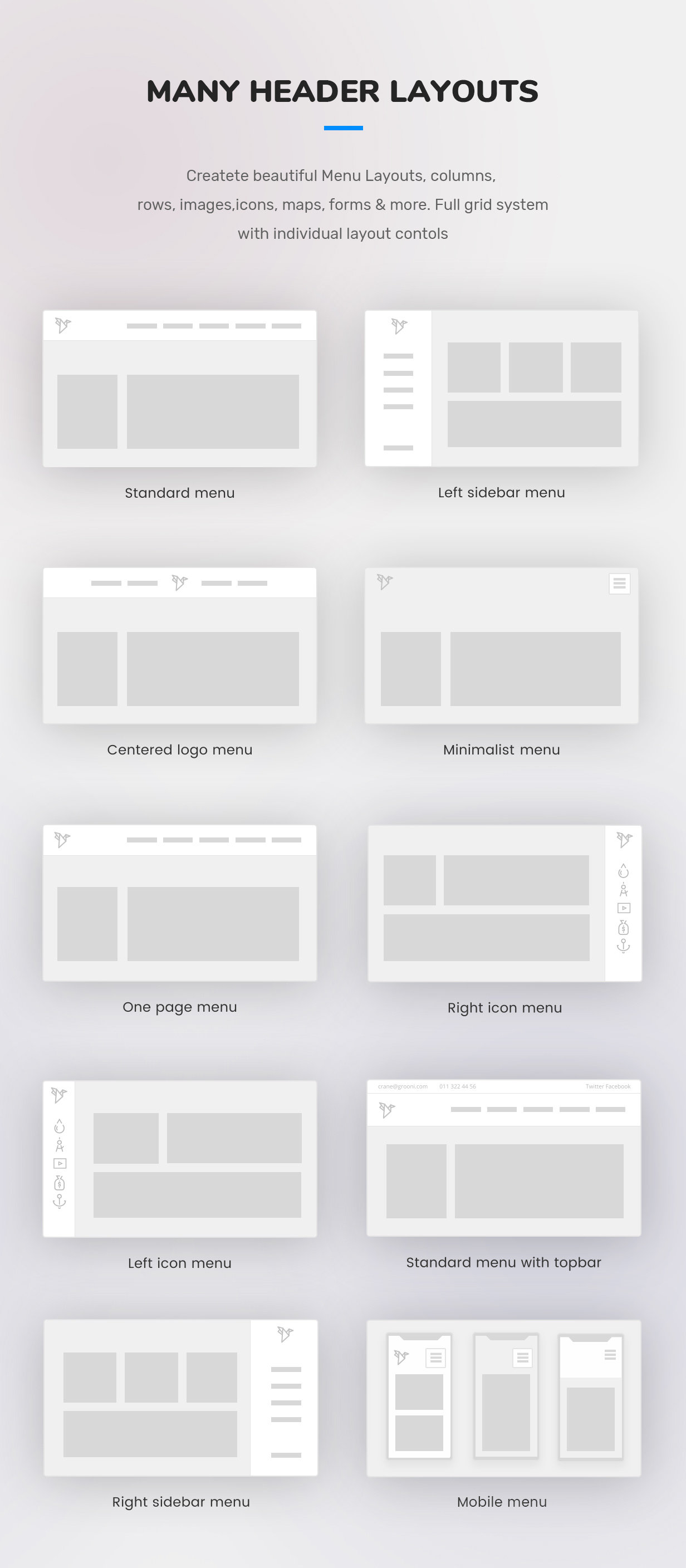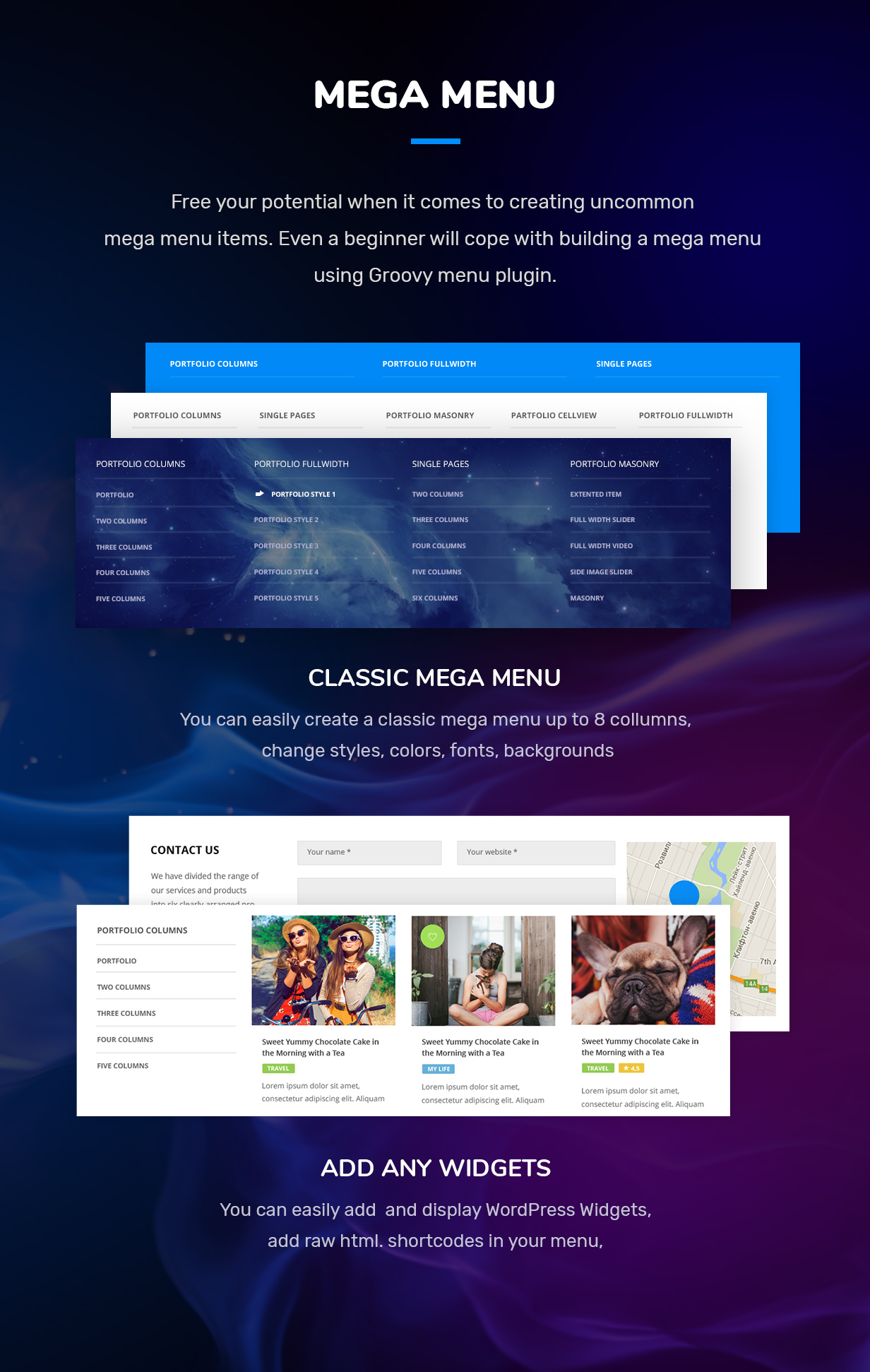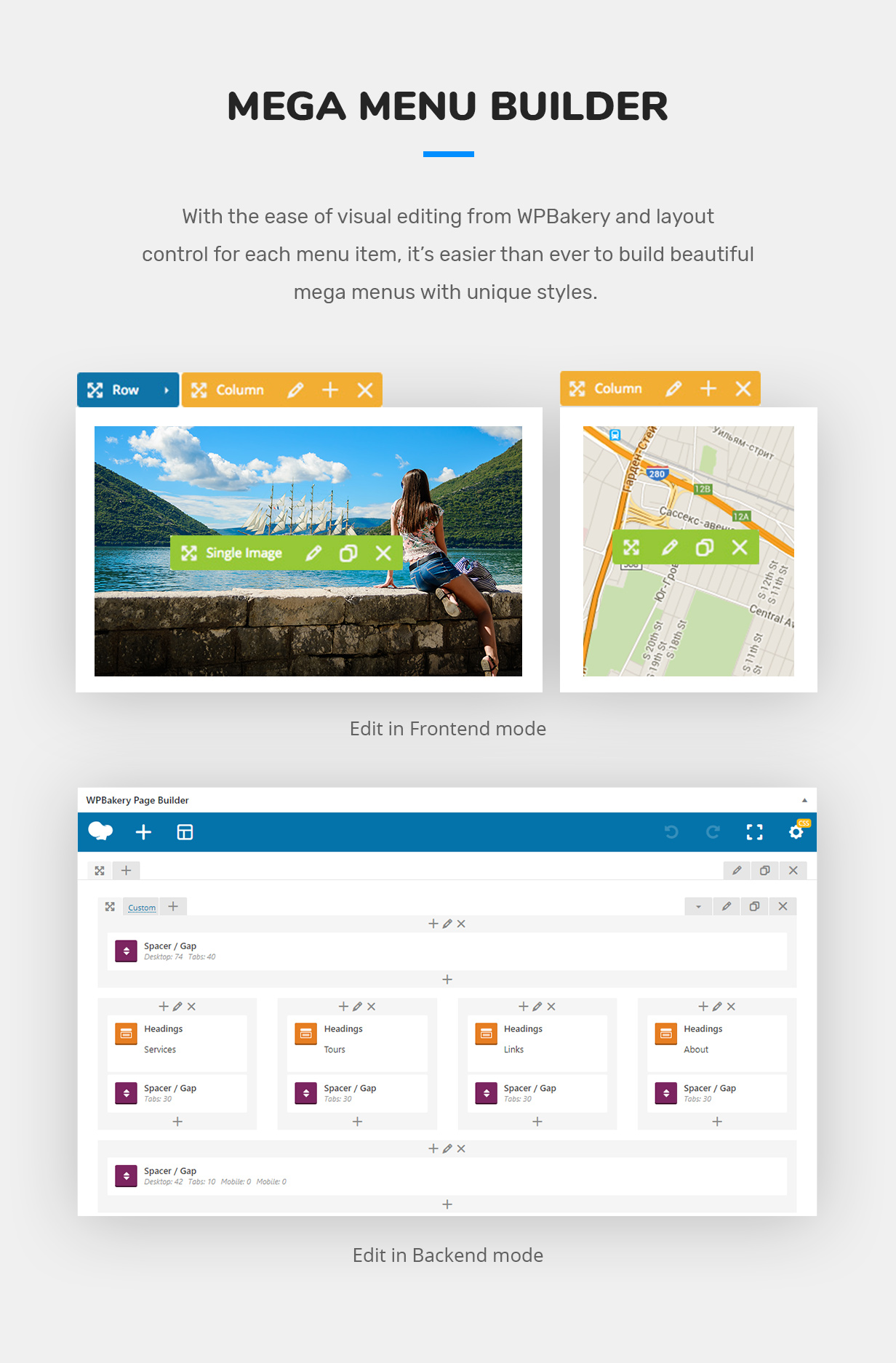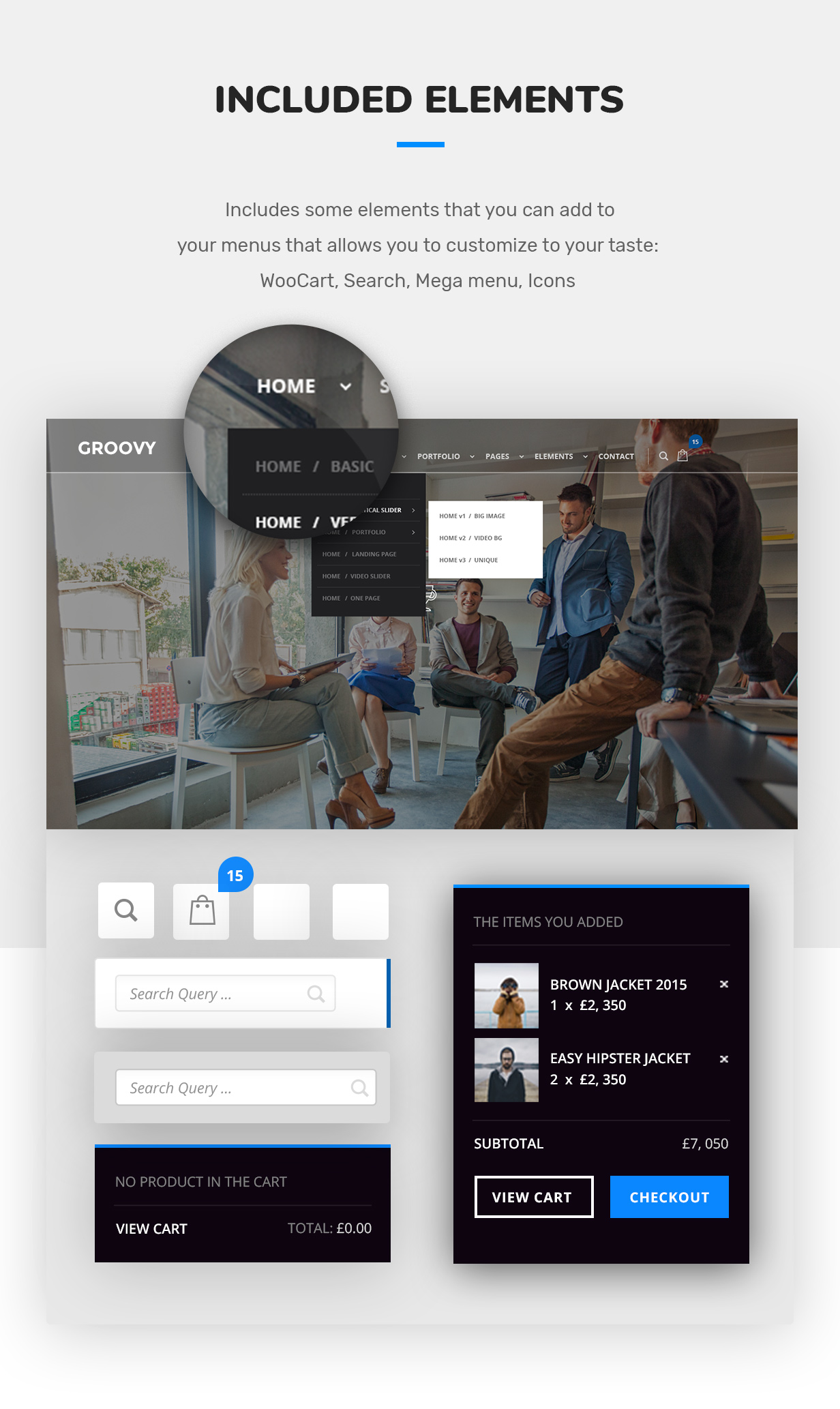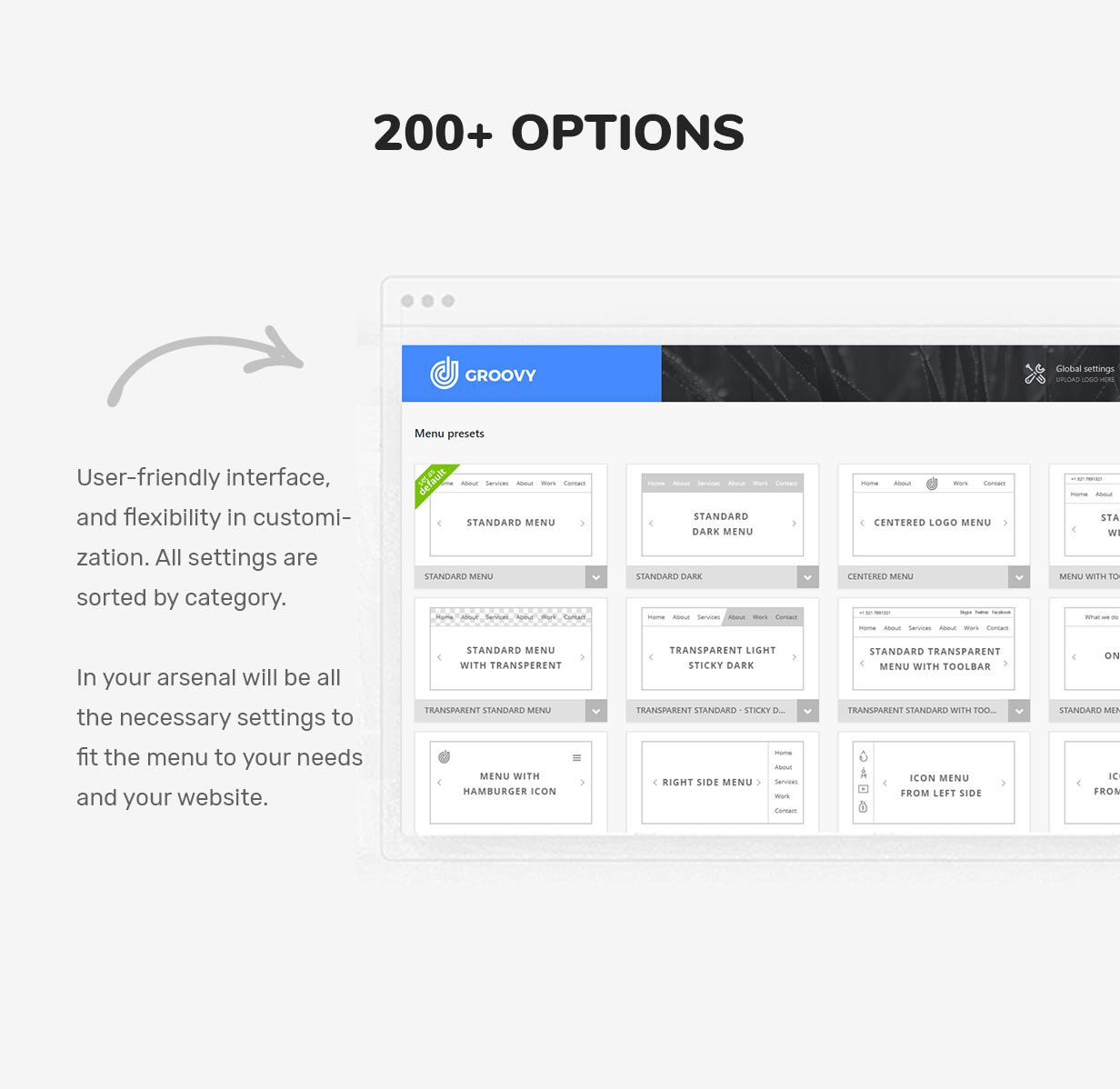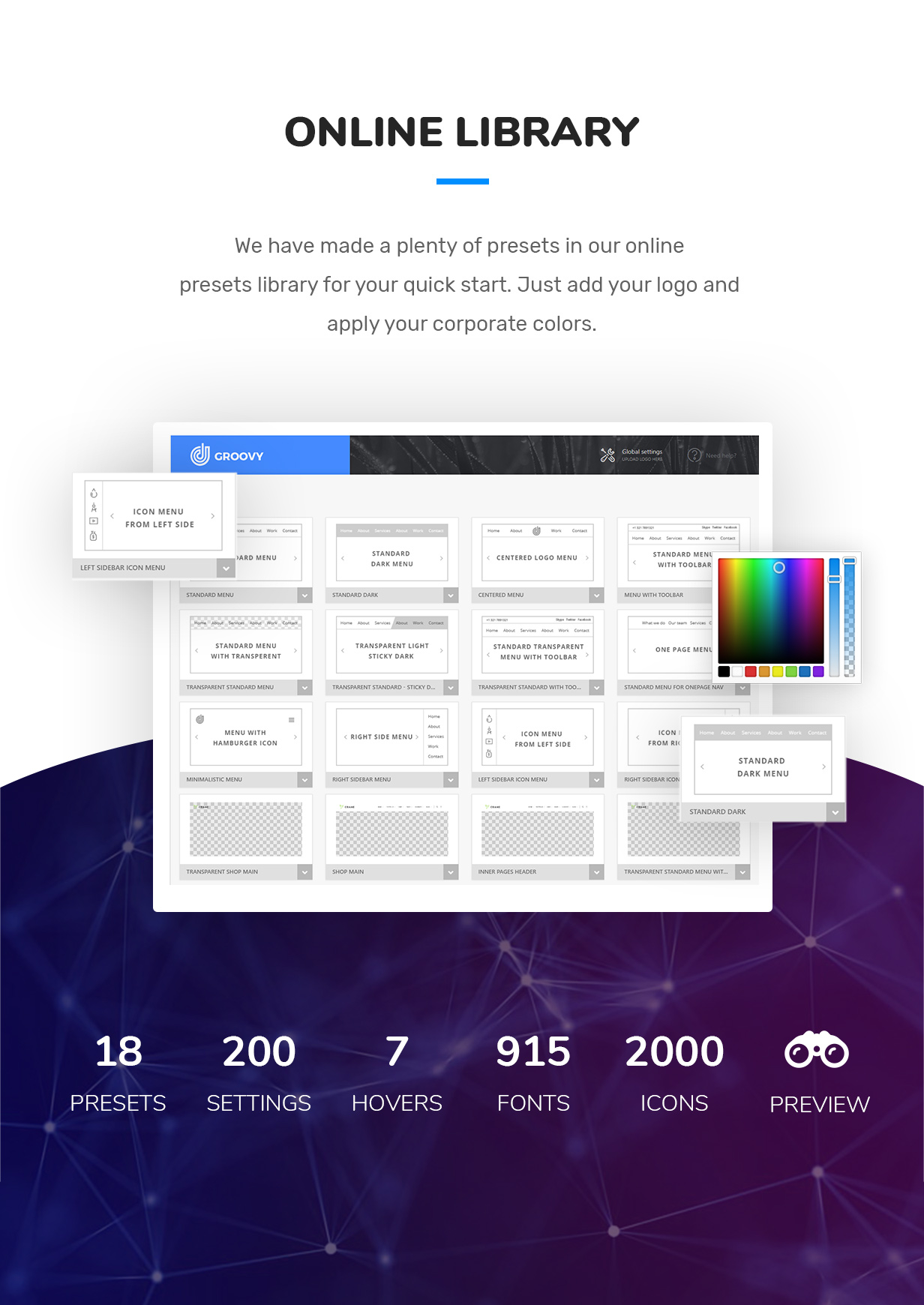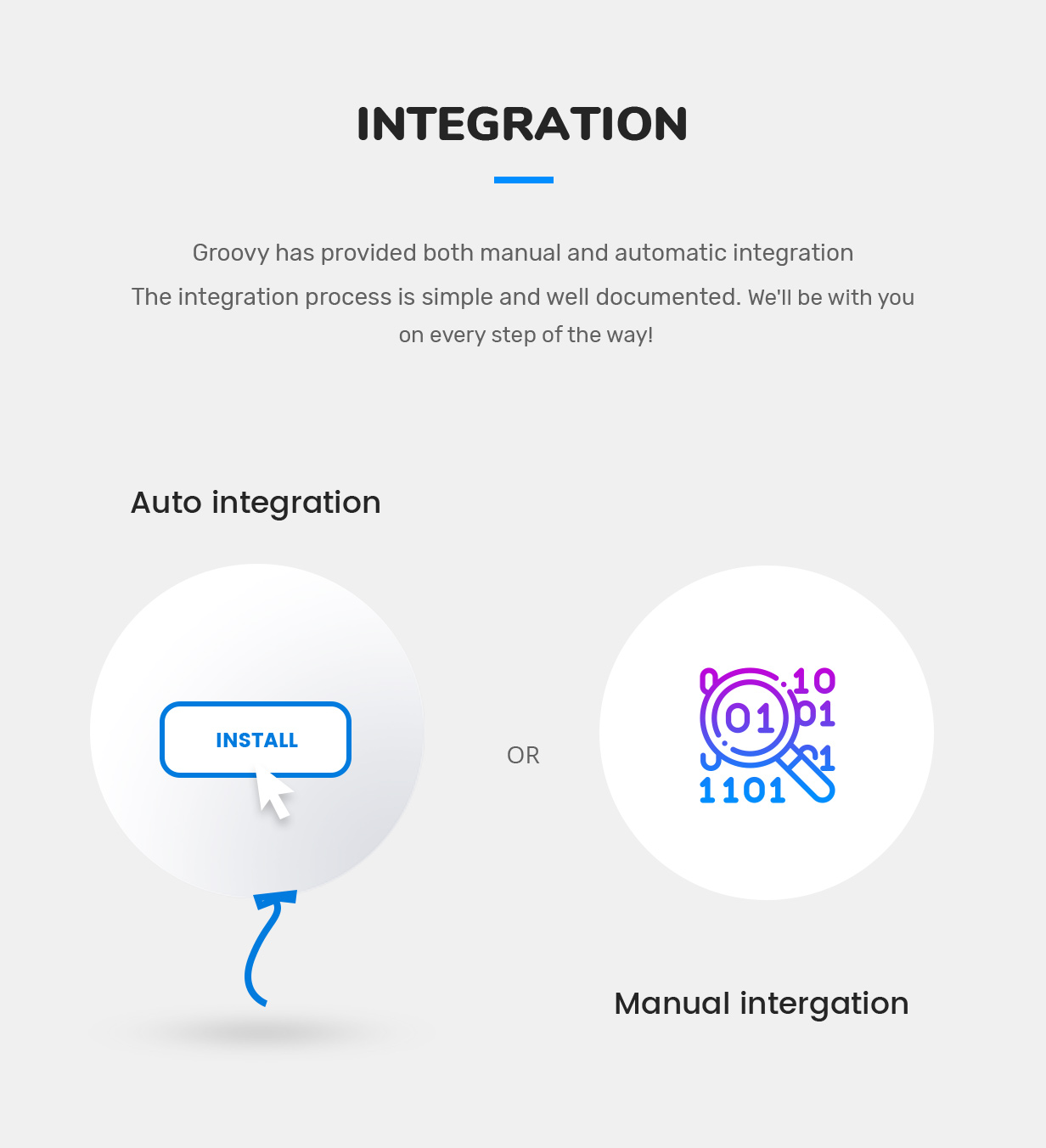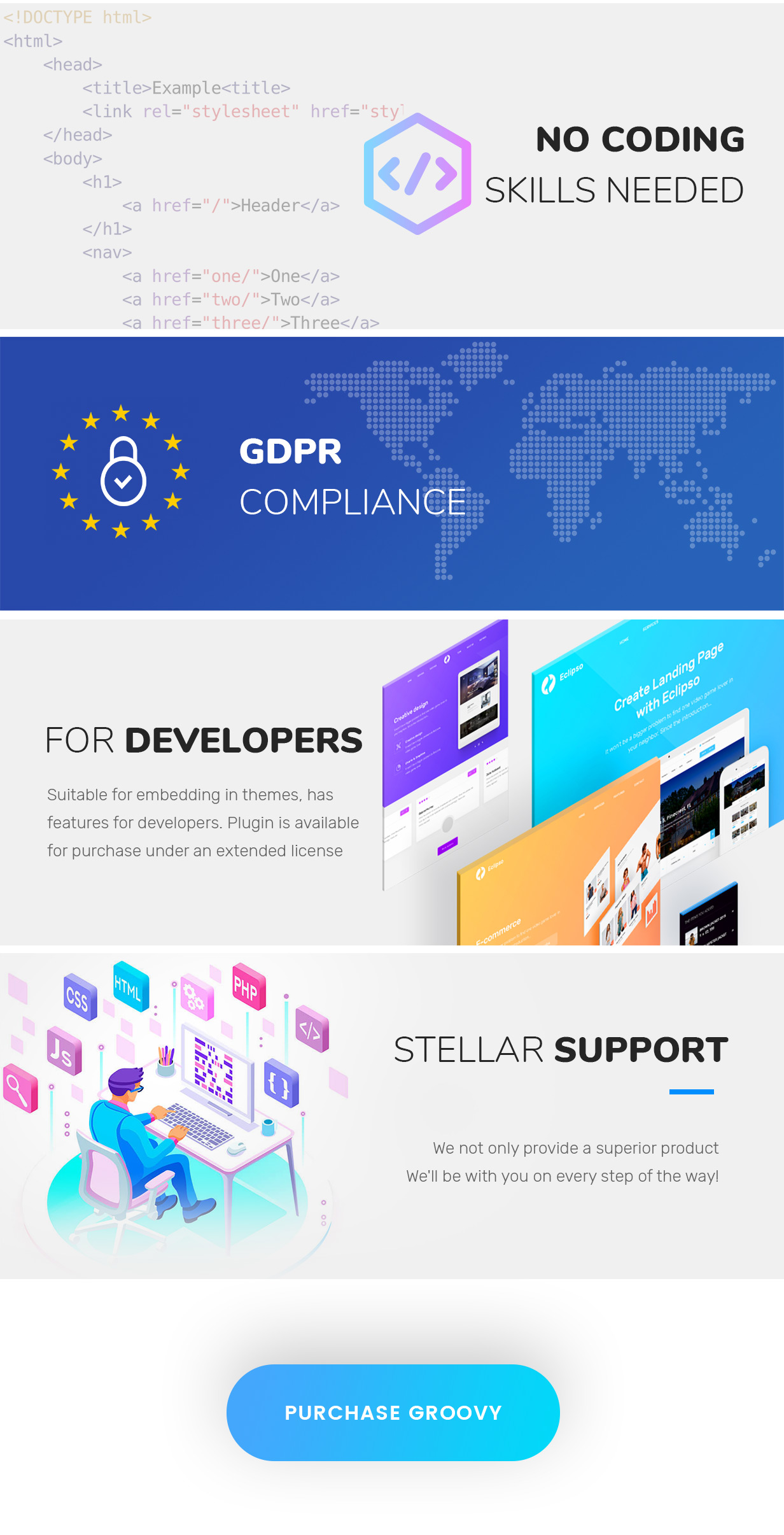 Groovy Wordpress Mega Menu Plugin
This exclusive wordpress menu navigation plugin is from Grooni who developed Crane theme. You will get a kick out of Groovy mega menu plugin as you can set and create different types of a menu on your website. Customization is easy as you can use presets from online library, change, colors, sizes, fonts, add effects. Add any Wordpress widgets in mega menu. It works with popular page builders WPBakery (ex Visual Composer), Gutenberg, Elementor Builder, SiteOrigin, compatible with WPML, Polylang plugin, LocoTranslate, WooCommerce.
FAQ
Q: How to integrate?
A: Please read this article
Q: How to upload logo?
A: Please read this article
Q: What to do if automatic/manual integration not working properly?
A: Please create a private ticket here describe the problem, attach screenshots and prrovide us admin access to your site, how to create admin user please read here
Q: Can I insert Groovy Menu as a widget?
A: No, we don't have an implementation as a widget.
Q: Can I use it on a non-WordPress site?
A: No, Goovy Menu is exclusively for WordPress currently.
Q: How to implement inner scroll navigation (one page menu)?
A: Please read this article
Q: Which Page Builders are compatible with Groovy menu blocks?
A: Groovy menu blocks compatible with the following builders:
WPBakey Page Builder (ex Visual Composer)
Gutenberg
Elementor Page Builder
SiteOrigin Page Builder
Beaver Builder
Q: Is there an extended license for theme developers?
A: Yes, you need to purchase an extended licese for that.
Showcase
You can send links to your sites where Groovy Mega Menu plugin is used. And you would like to show the result which are you proud of.
Change log
Detailed changelog with screenshot and images view here
Version 1.6.2.2 – February 22, 2019

    [Fixed]
    - Hotfix: fix JS compatibility error when working with some third-party plugins

Version 1.6.2.1 – February 21, 2019

    [Added]
    - PHP compatibility up to 7.3.1

Version 1.6.2 – February 19, 2019

    [Added]
    - Due to WordPress limitation, only settings from one plugin can be shown, but not both simultaneously at Appearance > Menus. This limitation causes inconvenience when using our plugin in conjunction with other plugins, such as "If menu", "Nav Menu Roles" and some WordPress themes that add custom settings there.

    - We added an option that allows toggling visibility of settings between Groovy menu and other plugins in Appearance > Menus. If a plugin or theme is detected which also adds settings to the Appearance > Menus the infobox with the button will be shown. By clicking on the button you can easily switch between settings of the plugins:

    [Fixed]
    - Compatibility issue with WP security plugin

Version 1.6.1 – February 9, 2019

Note. The data update is required for this update
    [Added]
    - Compatibility with Beaver Builder for Menu blocks
    - Compatibility with Ultimate Addons for WPBakery Page Builder for Menu blocks
    - Ability to change the [header] tag for menu layout. Now you can choose between [header] and [div]. The setting can be found in the Dashboard > Global Settings > Tools

    [Improved]
    - The menu output (markup and all other code) now generated before the formation of the  [HEAD] template.
    - The implementation of the sticky menu appearance. Now it works more smoothly.
    - In autointegration mode, the groovy_menu_js_request function is now called the same as in manual integration, respecting the location of dependent scripts
    - Previously, in the Appearance > Menus for nested elements, we allowed not to display an element, if for navigation labels we set a dash (-) for nested elements.
    - But now we have the setting Do not show the menu item title and a link that does the same, but with all levels not only nested. Therefore, the hyphen functionality was removed to avoid duplication, and the data was transferred to a new parameter.

    [Updated]
    - Online library presets

    [Fixed]
    - Compatibility bug with Elementor Builder
    - The color of the text of the top level menu in the sticky mode is interrupted by the color from the default mode in hover style 1
    - Redundant group_start / group_end values were in json preset
    - Perfect scrollbar sometimes falsely worked for a mega menu
    - The picture for the menu was not displayed on the front background if it was small in size
    - Wrong location of the minicart icon relative to the remaining items in hover style 7
    - Menu canvas and container width setting did not work in some modes
    - Google Font should be called on the head and not on the body.
    - Several minor bugs

Version 1.5.6.1 – January 19, 2019

    [Fixed]
    - Fixed bug with opening cart

Version 1.5.6 – January 16, 2019

Note. The data update is required for this update
    [Added]
    - Compatibility with  Gutenberg Editor for Menu blocks
    [Improved]
    - Menu blocks selection in Appearance > Menus is now more clear without the need of creating a separate custom link for it. Just add menu blocks as any page https://nimb.ws/NE7DXJ
    - The behavior of opening dropdown on mobile menu. Before there was no option for top-level dropdown menu items to open a link, only a dropdown was opening. From now on if you set a link for a top-level dropdown menu item it will open a link as expected. Use a caret icon near to the text link to open a dropdown.
    [Fixed]
    - Several minor bugs

Version 1.5.5 – January 12, 2019

    [Added]
    - Compatibility with WPML String translation plugin to make available create translations for dynamic fields such as "E-mail address" and "Phone number" fields in menu topbar http://nimb.ws/DCuFjX

    [Fixed]
    - Lack of full list of Google fonts
    - Several duplicated SQL responses
    - If "Do not show menu item title and link" option from Appearance > Menus was set to On the icon for the title was still shown.
    - An issue with generating preview screenshots for presets in Dashboard
    - The preview screenshot was not deleted when deleting preset
    - Several minor bugs