Go Court is an online ideal appointment scheduling software for lawyers and law firms. The user friendly and intuitive features of Go Court help to manage and grow your law practice ahead. It provides scalable and customizable tools to manage your law practice of any size. Go Court is also a best solution for individual lawyers who just started their law practice. This software is a leading edge solution to maximize productivity and profitability on your Law Firm business.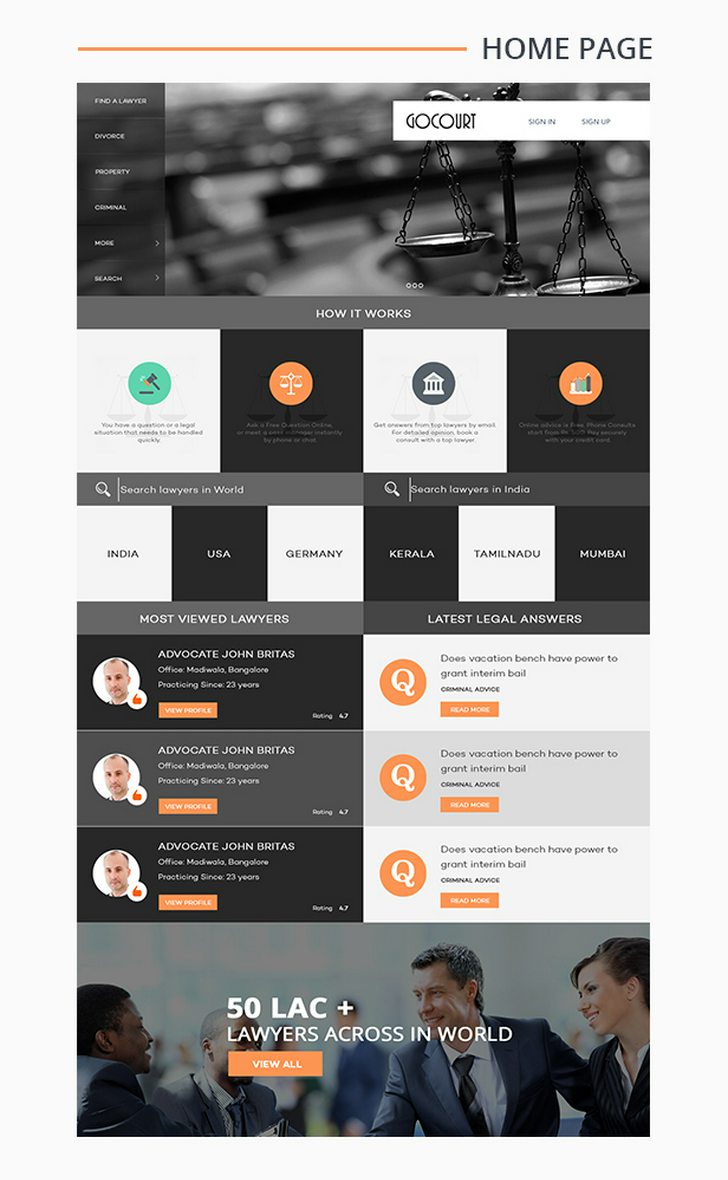 Key Features
Pay Only for your session.
Review the attorneys.
Q and A session with the lawyers.
Can choose the best lawyers based on reviews and ratings.
Payment Gateway integrated.
Search Lawyers by

Country wise
Specialization
City wise
Court wise like District, High Court, Supreme Court
Experienced
The Perfect Solution for Law Firm Scheduling
Instant Activation
Organize Your Resources
Reduce Missed Appointments
Assorted Services
Customize Everything
Flexible Plans
Seamless Management Tools
CREDENTIALS
Website URL: http://www.gocourt.in/   
LOGIN   
Username: user
Password: user  
ADMIN PANEL    url: http://www.gocourt.in/admin  
Username : admin
Password : admin  
Techware Solution also offers intuitive Android editions of Go Court so that now you can manage your law practice from anywhere on anytime from your mobile itself. Click here to buy
Possible additional customization of GO COURT from Techware
Customization on Payment Gateway
Customization on integration of online chat.
Customization for lawyer sign up .
Customization for Appointment reminders and notifications.
Customization to track the bookings.
We take pride in offering comprehensive and quality customization services to our customers within budget and on time . Feel free to contact us round the clock at info@techware.co.in or visit us  at  www.techware.co.in
Why choose Techware's Go Court?
We are providing the world's best selling law firm software solutions to lawyers and law firms to help them streamline Law Firm Operations. Our software is a powerful, flexible and easy-to-use software which is designed to make it even more efficient to manage your law practice.  Hire our in-house-GO COURT software-building team to save time and stay 100% focused on your Law Firm business.
Enjoy the Ultimate Hosting and Installation Service.
Here's a good opportunity if you are looking for a hosting and installation. This offers lots of features with good service and support. Everything you will ever need in one service with one time signup fee of $10. Don't miss out.

For availing, send a mail to support@techware.co.in with your purchase code.
*Promotional pricing is for the first term only and regular rates apply upon renewal.
TO GET SUPPORT, FOLLOW THE STEPS BELOW
FOR BUYERS
Raise a ticket to support@techware.co.in with your purchase code
Our agent will reply back to your ticket in 24 hours
For status updates please chat with our agent with your ticket number by visiting our website www.techware.co.in  at Indian time 9 am to 6 pm
FOR PRODUCT ENQUIRIES OR PRE-PURCHASE QUIRIES
Mail to support@techware.co.in with your enquiry details
Our agent will reply back you in 24 hours or
For live chat support, visit our website www.techware.co.in and chat to our agent. Ticket id is mandatory to chat with our agent.
FOR PRODUCT CUSTOMIZATION OR NEW DEVELOPMENT QUERIES
WhatsApp to  +919526138555 with your requirement