Launch price (10$) limited to the first 10 purchases
Demo available, right: HERE
With Face Recognition WP premium plugin you can easily recognise people's faces in a group photo.

Start by uploading some user profiles photos, at the User Profiles tab.
At the Group Photos tab upload a group photo where (or not) the persons from the profiles photos are.
If the persons are on the group photo the plugin will flag it and even indicate their names, according their profile photo name.
This plugin brings you the power of Face Recognition API to your WordPress website. Now you don't need to spend time trying to figure out who is on the photo, simply upload the photos and let the plugin do the guessing work.
DETAILED WALKTHROUGH
Once the plugin is installed and activated you will have to upload some faces, do notice that the file name identifies the person, once the file is uploaded the persons list will be automatically updated.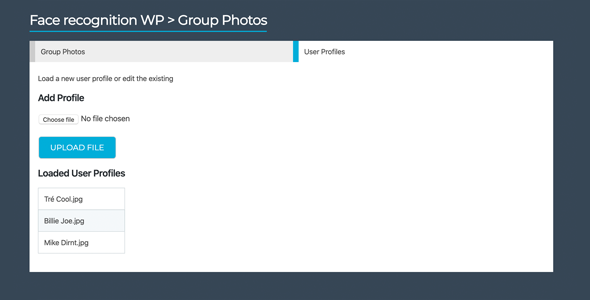 Now you just have to upload the group photo. According the number of persons and size of the file the reconnaissance process will take more or less project, nevertheless the rainbow cat will make this process less tedious.
Once the image is processed you will see a list of the identified persons.
Seems easy ? It's because it is! You can also check the video demo:
This plugin is entirely responsive, meaning that you can also perform these validations from a myriad of devices.
FEATURES
These are some of the main features and case scenarios:
You manage a classroom and need to check who attended the class, at the end of the class you can take a group photo and check it automatically.
You don't need to upload photos to Facebook or other services to identify persons
You can have your own private server (Extended license) to save your data
Plugin is constantly updated and improved according to user feedback
The interface is responsive and virtually works on any device
EXTENDED LICENSE
By default the photos will be uploaded to our virtual server, Amazon Elastic Compute Cloud hosted at Amazon AWS. If you don't feel comfortable with this situation you can get the extended license and I will help you to set your own Face Recognition API server on your own private server.