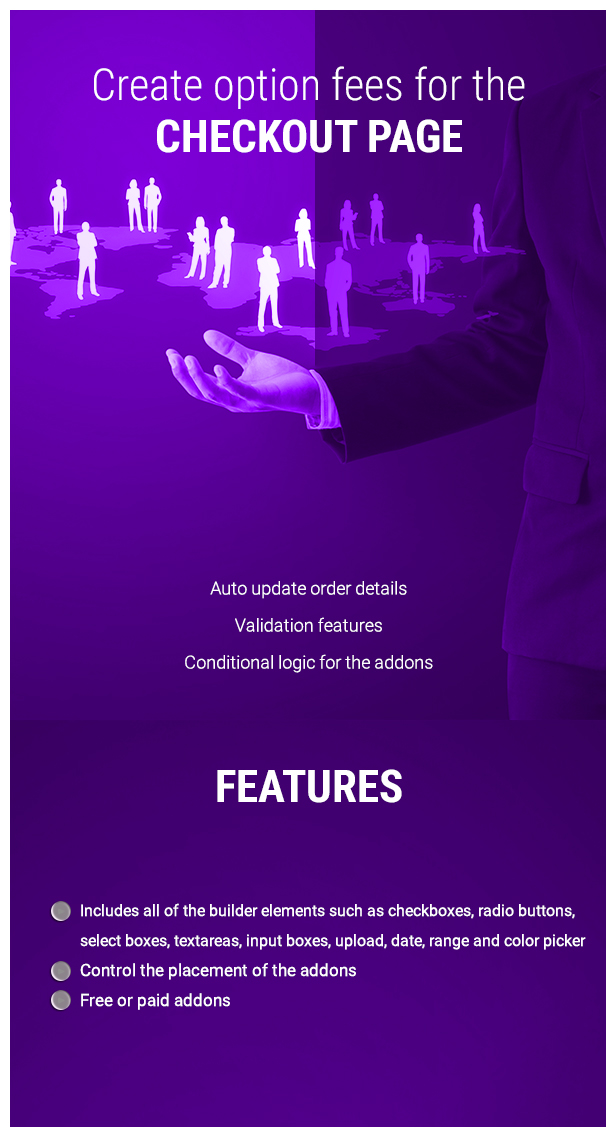 Extra Checkout Options requires WooCommerce Extra Product Options 4.9x to work. It allows you to use the form builder in WooCommerce Extra Product Options to create extra fields on your WooCommerce checkout page which can be free or paid.
Support
Item support includes 5 star support for all of the following:
Availability of the author to answer questions
Answering technical questions about item's features
Assistance with reported bugs and issues
Help with included 3rd party assets
Please note that customizing css is not part of the support and it is considered custom work.
Changelog
19.08.2019 version 1.6.2
Fixed an escaped HTML issue on Order details pages.
16.07.2019 version 1.6.1
Fixed a display issue RTL languages in the builder.
23.06.2019 version 1.6
Added compatibility with Extra Product Options 4.9.4.
26.05.2019 version 1.5.1
Fixed an issue where checkboxes not being able to be deselected.
23.04.2019 version 1.5
Refactored the plugin code towards security.
20.04.2019 version 1.4
Refactored the plugin code towards security.
29.03.2019 version 1.3
Compatibility with WooCommerce Extra product Options 4.8
Refactored several of the code
Corrected several display issues
09.05.2018 version 1.2
Fixed the upload element
Corrected several display issues
18.09.2017 version 1.0.1
Added setting to hide the options in the cart.
Corrected a display issue with ajax uploads.
Fixed an issue where required upload files weren't being validated.
10.08.2017 version 1.0