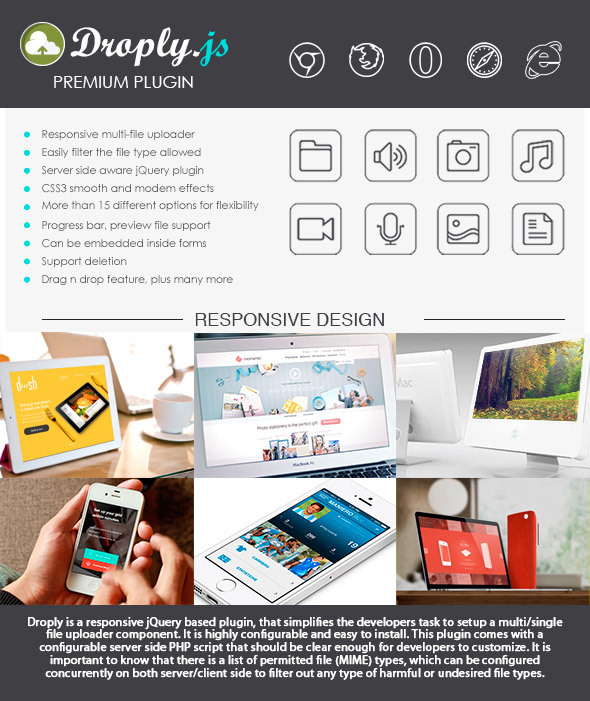 Supports chunk upload
Professionally crafted using latest HTML5/CSS3 web technologies
How can Droply fit into your .NET project ?
Droply provides a simple backend .NET processing class that enable you to integrate this plugin to .NET (MVC 3.5/4) framework professionally.
The plugin can intelligently slice and upload Gigabyte size of any type of files
HTML5 file chunk upload (offers reliable upload, allows large files to be uploaded without server constraints & dependencies)
High performance, flexible, liteweight and responsive multi-file uploader. Highly configurable with a contemporary design and native animation effects using CSS3 + HTML5.
Droply .NET is designed for developers who want a flexbile & highly configurable digital file upload extension for professional rapid project implementation and time saving.
It also has an intelligent template that will tailor the view of the uploaded item according to the file MIME type.
Features
Progress Bar

A fully customizable progress bar is included in UI mode. Core users can build their own with the help of a friendly API.

Drag and Drop

Drag and drop files (and even folders in Chrome and Opera) straight from your desktop.

Retry

Sometimes the network misbehaves. Fortunately, Droply can detect these sorts of disturbances and notify the user, or even automatically retry uploading the failed piece.

Validators

Limit your users to a specific file type, size limit, number of files, image dimensions, or write your own custom validator.

Delete Uploaded Files

Upload the wrong file? Use this feature to delete what you don't need.

Responsive

Droply has an integrated friendly mobile user interface, which allow users to upload files from their mobiles. Work beautifully for:

Constant feature addon

Our team is dedicated to continuesely improve and expand this plugin capability to the fullest, by adding cloud and social media feature intefration in the near future.