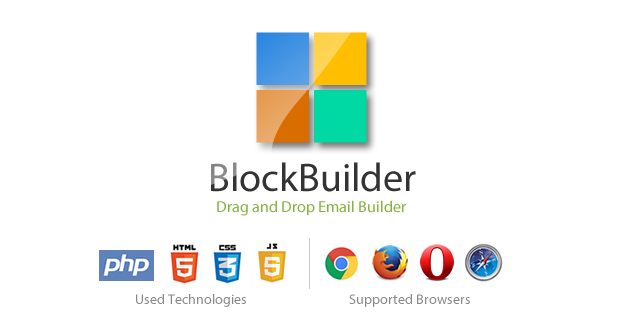 Block Builder is a drag and drop email template editor. Block builder also comes with the features to manage drafts, templates, etc. Builder is built on PHP, HTML, JAVASCRIT and CSS technologies. At the point Block Builder can be used in most of the major browsers such as Chrome, Firefox, Opera. If you are a email marketer we believe that this is a must have tool. Check out our live demo and video demo to see what it can really do.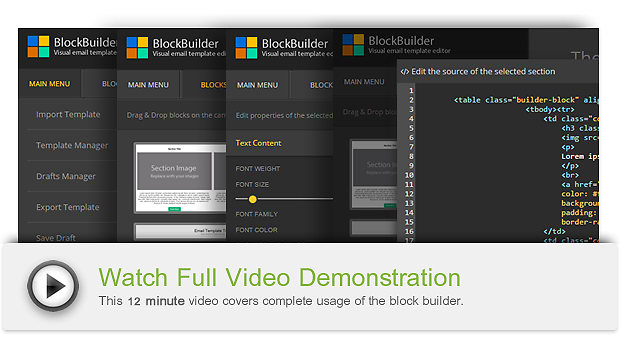 Block Builder Features
Easy Installation and Setup.
Complete template and draft management
Use your Old Templates with the least possible modification. See How Its Done
Drag and Drop the email template blocks to build your template
Full size code editor for the users love coding
Visual property editing.
On spot content editing.
Online documentation, Help videos and Support
Help and Support
It's quite easy to setup if you follow the guidelines and the tutorial videos. special support requests might take some time to respond.
Releases and Updates History

V 1.0.2 - 2016/03/16
- Fixed Template Exporting Issue
- Fixed Lagging while switch between editor modes
- Fixed Lagging when dropping blocks
- Fixed Style issues in Safari browser
- Fixed Cache issue in Editor and Preview 
- Added new Rich Text Editor 

V 1.0.1 - 2016/03/12
- Fixed Dragging issue in Firefox
- Fixed element content auto-focus in property edit mode
- Updated directory naming method with new encoding 
- Added Color picker for color code input

V 1.0 - 2016/03/09
- Initial Release