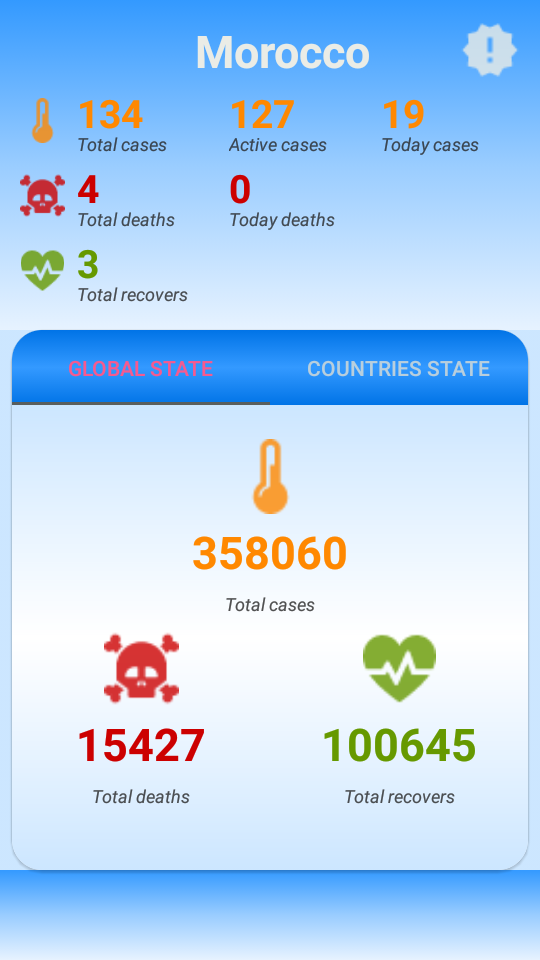 Corona Covid19 Tracker : Live statistics tracking the number of confirmed cases, recovered and deaths by country or global due to the COVID-19.. THIS APP CONTAINS ADMOB BANNER AND INTERSTITIAL ; EASY TO GET MORE REVENUE FROM THIS APP . EASY TO USE. 
Reports and data are provided by worldmeters.info/coronavirus and NovalCOVID API. This app provide real time data about Covid19 spreading in the local region of the users
* Main Features Template:
Multi Langage App (Aabic, English and french ) 
Attractive user interface
Real-time update the number of confirmed cases, recovered and deaths
Summary View for Statistics
Statistics From World Health Organization
Documentation Included
 AdMob Ads : Interstitial, Banners.
Android studio Project
Easy Reskin and it's ready to be publish
* This File Includes:
– Android Studio Project
– Full Documentation which includes detailed explanation with screenshots.
Sources:
https://www.worldometers.info/coronavirus/
Important Note :
Please Refer to the officials stores guideline and policy about publishing items related to the covid-19 / coronavirus . Google Play currently rejecting apps with name like coronavirus, covid-19. Upload your app on play store with name like ncovid-Safety Guide, ncov19 Stats, etc.
For special changes or Reskin services, please contact us.