About Coin Table
Coin Table is a Content Management System built for Cryptocurrency Real-time Information.
You can share exchange rates for 1000+ cryptocurrencies, always updated!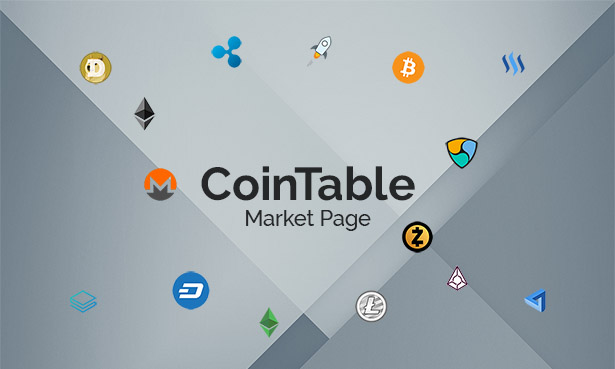 1000+ Cryptocurrencies
You will share 1000+ cryptocurrencies information.
All data is automatically updated 24/7, you don't need to do any manual process.
Other currencies
Prices can be displayed in more 156 government currencies like the dollar & euro.
Admin Panel
All settings can be managed in its own Admin panel. This is not a Wordpress plugin.
You can create multiple admin & member users with authentication module.
Pages
Coin Table has 4 customisable pages:
Home
Table
Currency
Converter
You can also create unlimited custom pages, with its simple manager.
Design
We tried to make Coin Table a good looking.
Every page is responsive and should adapt to any screen.
Ads/HTML
When you need to add custom html code, it's even better, every page has strategic sections for ads and/or external widgets. Just plug and play third party code.
Charts
Historical data is also available for 68 cryptocurrencies, and can be show in a nice chart.
Time ranges are 1 day, 7 days, 1 month, 3 months, 6 months & all time.
SEO
All Search Engine Optimisation is implemented.
Meta, OpenGraph & Twitter settings with one form.
Social Networks
You can share your social networks profiles with your visitors.
It's simple, just add your profile for:
Facebook
Twitter
Linkedin
Google_plus
Youtube
Instagram
Pinterest
Tumblr
Reddit
Github
Stackoverflow
Codepen
Flickr
Weibo
Theme Colors
You can select the base color for all pages.
Easy as choosing your favorite color.
Red
Orange
Yellow
Olive
Green
Teal
Blue
Violet
Purple
Brown
Black
Requirements
MySQL
Cronjob
PHP 5.6+
PHP cURL
Max memory 128MB
mod_rewrite enabled
Change Log
May 13 2017 – 1.0
Search table
Donation Box
Editable fields (seo, menu, footer)
May 26 2017 – 1.3
Homepage added (Header, Featured & Posts)
Market page added
Currency page added (Info details)
Custom cryptocurrency content added (Info details)
Converter page added
July 5 2017 – 2.0
Codeigniter integration
Authentication module added
Admin panel added
Charts available on currency page (65 cryptocurrencies)

BTC (Bitcoin)
ETH (Ethereum)
XRP (Ripple)
ETC (Ethereum Classic)
GNT (Golem)
DOGE (Dogecoin)
STR (Stellar)
XEM (Nem)
LTC (Litecoin)
XMR (Monero)
DGB (DigiByte)
SC (Siacoin)
BTS (BitShares)
ZEC (Zcash)
DASH (Dash)
BCN (Bytecoin)
FCT (Factom)
BTM (Bitmark)
STRAT (Stratis)
STEEM (Steem)
REP (Augur)
LSK (Lisk)
NXT (Nxt)
SYS (SysCoin)
MAID (MaidSafeCoin)
ARDR (Ardor)
GAME (GameCredits)
DCR (Decred)
GNO (Gnosis)
AMP (Synereo)
LBC (LBRY Credits)
CLAM (Clams)
VTC (Vertcoin)
BURST (Burst)
RIC (Riecoin)
SJCX (Storjcoin X)
NAV (NAV Coin)
PINK (PinkCoin)
PPC (Peercoin)
EXP (Expanse)
XCP (Counterparty)
BTCD (BitcoinDark)
EMC2 (Einsteinium)
VIA (Viacoin)
NXC (Nexium)
NEOS (NeosCoin)
FLO (FlorinCoin)
PASC (Pascal Coin)
NAUT (NautilusCoin)
RADS (Radium)
POT (PotCoin)
BLK (BlackCoin)
BELA (BelaCoin)
BCY (Bitcrystals)
FLDC (FoldingCoin)
XPM (Primecoin)
NMC (Namecoin)
GRC (GridCoin)
XVC (Vcash)
XBC (Bitcoin Plus)
HUC (HunterCoin)
VRC (VeriCoin)
NOTE (DNotes)
OMNI (Omni)
SBD (Steem Dollars)
September 13 2017 – 3.0
Custom Pages creator added
Pages submenu added
Selected pricing currency & search options memorized on client browser
Charts available on two more currencies

BCH (Bitcoin Cash)
ZRX (0x)

1 Day window in charts added
Global custom HTML & CSS fields
Sitemap added
'index.php' removed from URL
Bugs fixed
December 6 2017 – 3.1
3 cryptocurrencies removed

NOTE (DNotes)
SJCX (Storjcoin X)
NAUT (NautilusCoin)

2 cryptocurrencies added
Deflate compression added through .htacess file