About:
Make the Circle jump and avoid hitting the line!. How far can you go?
Circle Jump is a simple and highly addicting game, just make the circle jump and avoid hitting the line and the more
score you get, the more difficult the game will be, that's it and you can play the game with mouse and keyboard (space key).
Features:
HTML5 Mobile Optimized (High performance)
Playable in all platforms (Mobile, PC, etc.)
No required coding
Easy reskin
Easy export to Android & iOS
Share Facebook score
Share Twitter score
Save Snapshot score
Included: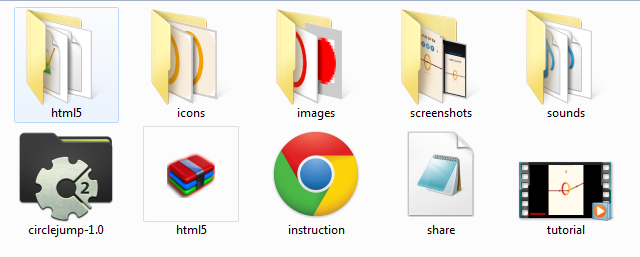 Reskin: http://game.hunterist.com/circlejump/documentation.html

Tutorial: https://www.youtube.com/watch?v=M1n56ql-ymg
Customize: I will help you modify anything you want with no cost or low cost (included leaderboard/score by php, reskin, save highscore to your game portal …). Just follow me at email publicvnteam@gmail.com
Changed Log:
Version 1.1: Change background when hitting every 10 points. It's very hard to get high score.
Version 1.0: Initial project.
Note: You should clear cached & cookies when running new version.