Cargo Management Software
Cargo Management Software is an application program that is used to help handle all transactions for the delivery business.
Advantages
Before the transaction shipment visitors can check the cost of shipping goods by weight or volume of goods
Visitors can choose whether to send goods using land, sea or air.
Visitors can find out the cost of packing for mails.
Visitors can select an existing shipping rates.
Item weight calculation automatically if the weight is greater than the volume (length x width x height) then automatically calculated by weight, but when the count volume greater than the weight that is calculated as volume weight.
The formula for calculating the volume, calculate the cost of packing goods.
Multi-user, administrator and operator.
The transaction report is based on a date range.
Autolist form for delivery of regional origin and destination delivery area.
Setting the cost of taxes, insurance and packing costs
Ease of use.
Responsive Template
Demo
http://codecanyon.net/item/cargo-management-software/full_screen_preview/9912777

As Administrator
User : admin and Password : admin

As Operator
User : elisa and Password : admin

Download Manual Book

Android application examples, click here
Customization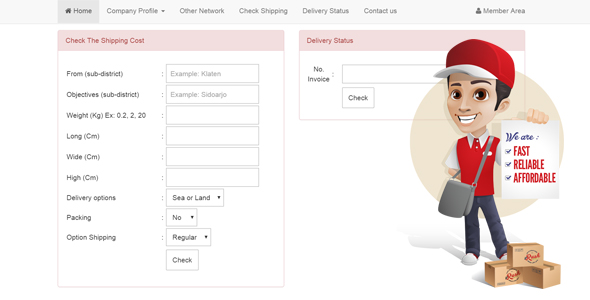 You can also order these products in custom as http://courier.cmsloka.com but you will be charged.