Main Components: All the main components Extra Components: All the extra components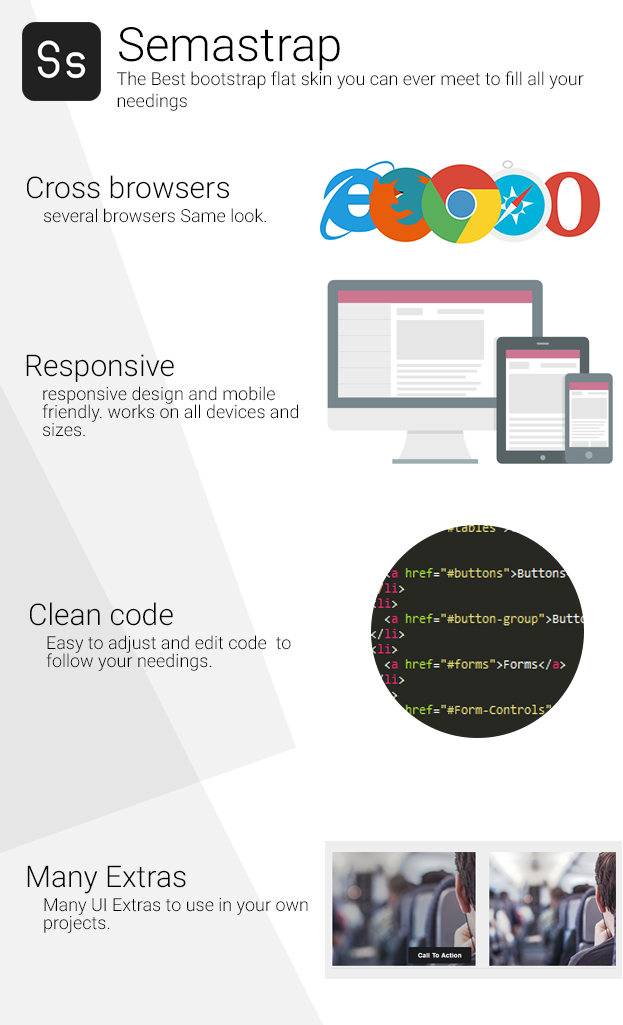 Semastrap – Bootstrap skin V2: This Skin made by Brightery Authors.
v1.0 contains: 1- Full bootstrap skin [based on Semantic ui] as: TABLES BUTTONS BUTTON GROUPS FORMS FORM CONTROLS NAVBARS BREADCRUMB PAGINATION THUMBNAILS CAROUSELS 2- Extras as: CARD ITEMS DESCRIPTION HOLDER FULL MASK CALL TO ACTION SOCIAL MEDIA ICONS PROFILE CARDS FULL USER WIDE USER ADDRESS USER SIGN IN FULL WIDTH WITH ICONS CHECKBOXES BLOG POST STORE ITEMS STORE LIST STORE SINGLE CONTACT FORM TWITTER PROFILE BOOTSTRAP SKIN
How To Use ? you can Easily add assets files on your project under your own Bootstrap.min.css in your html file and see magic. there's 2 versions of file called "semastrap", minified one and other one you can also add your edits on.
Wait for more soon and be updated with news.
if you face any problem please contact: support@brightery.com Update 0.2: - New Elements. - Fixing on small devices Best regards, Brightery Authors
if you purchased this script please rate it and tell us your feed back as soon as possible to improve it and for more..