Reach the Right Inbox, With the Right Message, At the Right Time
Now with "Read" and "URL Clicks" Tracker, enhanced reports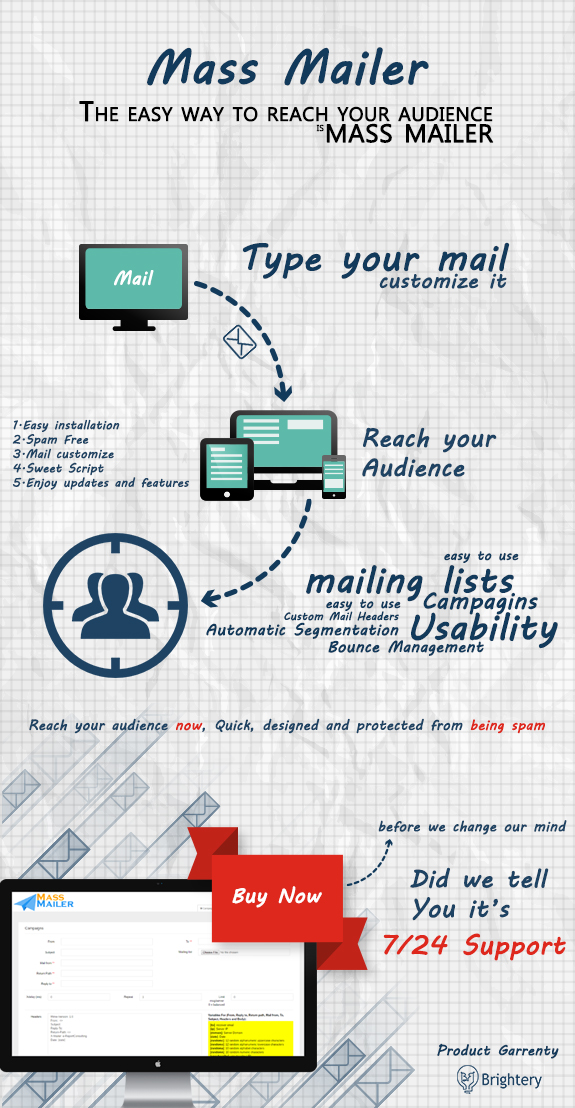 Brightery Mass Mailer is a simple to use, efficient email marketing application with an impressive features set. With Brightery Mass Mailer you can start your advanced email marketing campaign immediately.
There's no super requirements and no advanced experience is required, You can make your email marketing campaign in just minutes.
After installing Brightery Mass Mailer, you get unlimited features!
Responsive design let you easily browse it from any device PC, Laptop, Tablet and mobile.
You can send an unlimited number of email campaigns (newsletters) to an unlimited number of lists containing an unlimited numbers of subscribers.
You can use ANY smtp server to send your newsletters, you can use a service like Mandrill, SendGrid, Amazon SES, SparkPost, MailGun, DynEmail, LeaderSend to do so.
But really, Brightery Mass Mailer is full of features that will make your life easier while handling newsletters, whatever you?d desire from an emailing system, most likely we have you covered!
Finally Brightery Mass Mailer is the best marketing tool, that helps you easily prepare emails for your customers and it support multi SMTP Servers on the single campaign. and quota limitation, SPAM Free, full email headers customization, testing before start the campaign, no server flooding, compatible with the most resources
Don't hesitate to contact us if you have inquiry or suggestions, and support at:
support [at] brightery.com
Access information:
URL: https://demo.brightery.com/mass-mailer/admin
Username: admin@admin.com
Password: 123456
Best regards,
Brightery Team