About "Android Brain Puzzle" :
—————————
This is a Java, Android based eclipse project and brain skill development game for kids as well as all old peoples. Compatible for any android devices ( android phone, tablet and all others ). The target of the player is the build the real photo from the breaking photo's items. Swift to move your photo's part one from another.

The game easily edited if you wish. Freely you can add and/or remove any graphics ( buttons, levels, fonts, drops, other graphics ) and sound effects. Also has any share option and Google play rate button.



DOWNLOAD THE DEMO GAME IN PLAY STORE : Android Brain Puzzle


DOWNLOAD THE DEMO GAME FROM DROP-BOX : Android Brain Puzzle


VIEW THE DEMO GAME VIDEO : Android Brain Puzzle Video



VIEW THE DEMO GAME IN BLOG : Android Brain Puzzle Blog Site


Technology used:
—————
Eclipse ( IDE )
Libgdx ( Desktop/Android/BlackBerry/iOS/HTML5 Java game development framework )
Features:
———
Graphical game views and movements.
Setting puzzles and levels.
Choose puzzles.
13 built-in puzzles are included.
Easy, Medium and Hard puzzle's setting.
All sounds are included.
Rate option.
Share option.
Easy to control ( Swift to move only ).
Store best of 5 Hi-scores with user name that you input.
Leaderboards and Achievements
High Score and Trophy Winner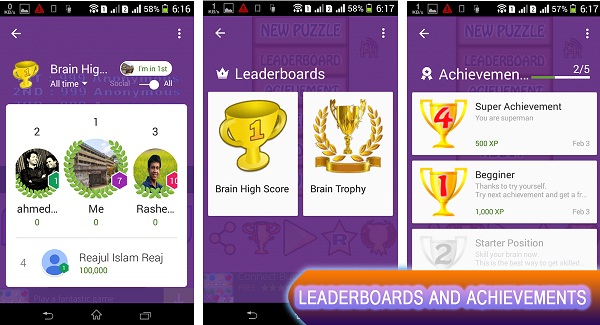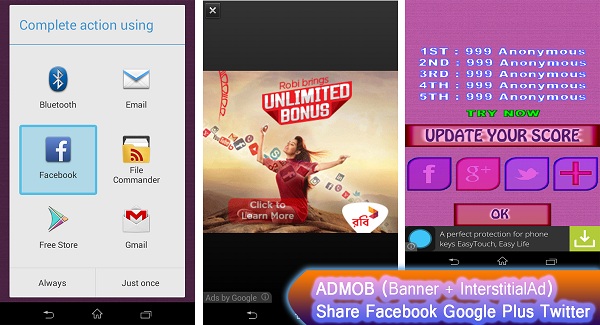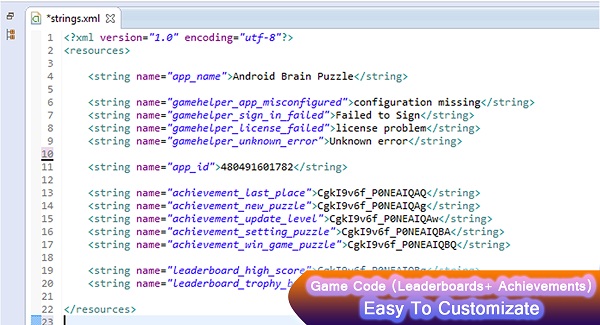 Credit :
—-—
Check the demo APK : https://www.dropbox.com/s/3b42kb2sge0fhi2/BrainPuzzle-android.apk?dl=0



Contact :
——-
If you want to know about something related to this game then contact me.
E-mail: anis.cse.ju@gmail.com
Skype: anisbulbul
This site : http://codecanyon.net/user/anisbulbul



You can get from here :
——————-
Full Java, Android Source Code
Extra Layered PSD included
Extra PNG included
Extra SOUND included
Demo .apk file
Step-By-Step documentation


*** Version 1.0 - January 16th, 2015 ***
-------------------------------------------------------
-- IMPORTANT : First Release

*** Version 1.1 - January 28th, 2015 ***
-------------------------------------------------------
-- IMPORTANT : Admob (Banner + Interstitials) added

*** Version 1.2 - February 13th, 2015 ***
-------------------------------------------------------
-- IMPORTANT : Google Play Game Service added
                           -- Achievements ( 5 Achievements )
                           -- Leaderboards ( High Score and Trophy Winner )
                           -- High Score ( Update Your Score via Game Service )
                           -- Social network communication via Game Service