Book My Doctor is a multi functional  online doctor appointment scheduling software for doctors, clinics and large hospitals built up on Php with CodeIgniter framework. This open source scheduling system is built upon php with CodeIgniter framework. With the ease of configuration and personalization, Book My Doc is the best tool for both doctors and patients. This is a powerful medical doctor appointment scheduling software to meet all challenges that may surface during your appointment scheduling and hospital management. This online doctor appointment booking software is user-friendly at both front and back ends, which means that the process of booking appointments and scheduling management of Book My Doc is easy for both the doctors and patients. For attracting new patients, a medical practice must adopt digitization. By using Book My Doc make a start to provide digital healthcare.
Key Features
Search Module
Appointment Booking
Check-in form Submitting
Appointment management
Schedule a timing (leave ,Vacation etc)
Past appointment Management
Ratings and Reviews
Admin Features
Admin has overall control of the system. The main features of admin module are given below.
Manage appointments
Manage Patient
Manage doctors
View Appointments statistics
Rating Details
Doctor features
Easy and User friendly Sign Up, Sign In
Account Password Recovery
View Appointments
Manage appointments
Can updates edit profiles and can add images.
Can schedule their availability dates and the day they are on vacation.
Patient Features
Signup/Login.
Can choose and book an appointment at the flexible time and date.
Can search for doctor according to specialty and location.
Can write review about the doctor and can select doctors according to other user feedback.
Can access all previous check-in details and medical past appointments.
Website Demo URL
DOCTOR LOGIN DETAILS:-
Username: doc@bookmydoc.com
Password: 123456
PATIENT LOGIN DETAILS:-
Username: patient@bookmydoc.com
Password: 123456
ADMIN PANEL LOGIN DETAILS:-
URL: http://demo.bookmydoc.in/admin/
Username: admin
Password: admin
As use of mobile device continues to expand, most of the people depend mobile for health information and appointment booking. At this scenario having a mobile app for medical practice or Hospitals will increase appointment rates.
Make your patients to book your appointments on the go with the Book My Doc App.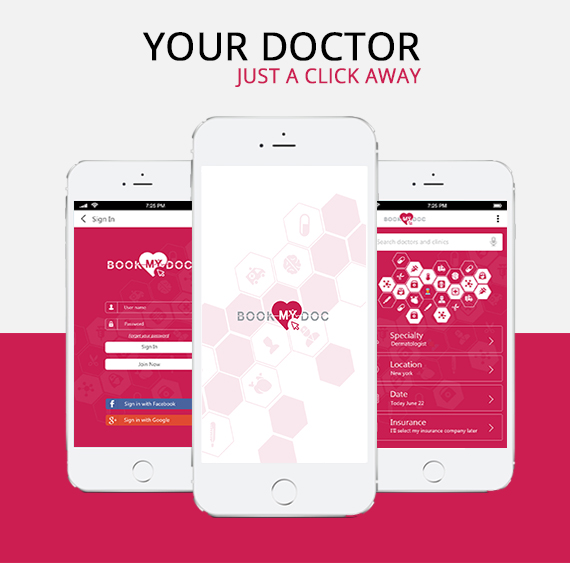 Possible Additional Enhancement of BOOK MY DOC from Techware
Customization for Payment Gateway
Customization for multi-vendor option
Customization for share information via whatsapp or facebook
Customization for  user to ask for emergency
Customization for pre consultation fees
Customization for SMS gateway
Customization for Social Login
Customization for canceling an appointment.
Customization to add a medical directory
Customization for prescription making option.
Customization for real time question and answers section
Customization for  verification by using OTP
Customization for Patient medical record system
We pride ourselves in delivering highly adaptable and quality hospital management software solutions and Healthcare Mobile app development services, based on your specific requirements in defined time. Need a custom modification for Book My Doc ? Then just contact us at info@techware.co.in. Or visit us at www.techware.co.in. Our Book MY Doc development team is always there to help you.
Why choose Book My Doc?
We are providing the world's best selling medical appointment scheduling software solution across various medical entities. Ease up the workload of your staff and ensure the smooth functioning of your practice with Book My Doc, an online appointment scheduling software.
Make the product under your branding. Use the package SILVER SPOON and get branded.
Only $499 USD, avail this offers soon. Get in touch with support@techware.co.in
1. Logo change
2. Name change
3. Color change
4. Installation
5. One payment gateway integration -credentials must be provided
Make the product in your branding. Use the package (GOLDEN SPOON) and get branded.
Only $999 USD, avail this offers soon.Get in touch with support@techware.co.in
1. Logo change
2. Demo of the purchased product
3. Name change
4. Color change
5. Installation
6. Play store upload For mobile apps and web server upload
7. One payment gateway integration – credentials must be provided
8. Customization for Push notification
9. Customization for Social Login
10. Customization for SMS Notification
CHANGE LOG
04 November 2015
Admin Panel Added
21 November 2015
Minor Bugs Fixed
New design for pop
New layout for admin panel edit page
Logical Update
Installer added
2 March 2016
New Theme
100% Mobile Responsive
Paypal Integrated
Package for Doctors
07 April 2016
Mobile APP webservice added
Minor Bugs fixed
07 January 2017
New version of BMD Release
Old Version Deprecated 
Added New features

Hospital Login
Medical Center Login
Clinic Login
Enjoy the Ultimate Hosting and Installation Service.
Here's a good opportunity if you are looking for a hosting and installation. This offers lots of features with good service and support. Everything you will ever need in one service with one time signup fee of $10. Don't miss out.

For availing, send a mail to support@techware.co.in with your purchase code.
Promotional pricing is for the first term only and regular rates apply upon renewal.
TO GET SUPPORT, FOLLOW THE STEPS BELOW
FOR BUYERS
Raise a ticket to support@techware.co.in with your purchase code
Our agent will reply back to your ticket in 24 hours
For status updates please chat with our agent with your ticket number by visiting our website www.techware.co.in  at Indian time 9 am to 6 pm
FOR PRODUCT CUSTOMIZATION OR NEW DEVELOPMENT QUERIES
WhatsApp to  +918129275666 with your requirement