Blackjack is a comparing card game between a player and dealer, meaning players complete against the dealer but not against other players. It is played with one or more decks of 52 cards.
Game rules
Blackjack is played with one or more standard 52-card decks, with each denomination assigned a point value. the cards 2 through 10 are worth their face value. Kings, queens, and jacks are each worth 10, and aces may be used as either 1 or 11. The object for player is to draw cards totaling closer to 21, without going over, than the dealer's cards.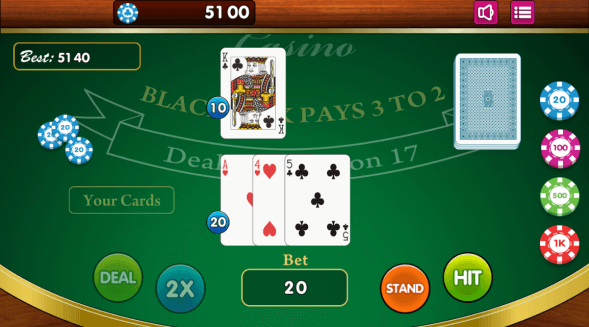 More info into helpfile (see documentation).
Demo Android apk (arm) with Admob ads Download APK
Features:
Made with Construct 2
Include .capx file (Construct 2 source)
High quality graphics
Sound effect (ogg and m4a)
Smooth game effect
LocalStorage (Save current money and highscore)
Bonus 80 chips for each game play/open
Admob ads supported (Banner and interstitial)
Ready export/build to Android and IOS using Cocoon and IntelXDK
High resolution 1280×720
Special thanks:
OUR OTHER GAMES