Introduction
Secura – AJAX Cart is a powerful system which can be integrated to new/old HTML websites to extend their functionality as a Cart with downloadable products. You can now sale your digital products right from your old HTML website. You don't need to use OpenCart or any other cart for your e-commerce website. You can create your own e-commerce website in minutes using this Cart system.
No need to Have any Knowledge of PHP,MySql.
No need to mess with codes,Just Copy Simple Code Created by Admin Panel
Features
Easy Integration.
Built with Bootstrap.
Fully Ajax.
Fully Loaded Admin Panel. (DEMO USER:admin@admin.com PWD:admin)
Customer Area (DEMO USER:customer@admin.com PWD: customer)
Product Images.
Product Description.
Transactions System.
New Purchase Notification to User.
Add funds to users from Admin Panel.
Prepaid Credits.
User purchase details page.
Products Management.
Add / Remove Products.
Custom Prices.
Payment Gateways.
API for adding new Gateways.
Free Updates.
100% Support.
Live Demo
Cart
AdminPanel (Admin access): User: admin@admin.com Pwd:admin
Customer Panel User: customer@admin.com Pwd:customer

Documentation
Click here
See also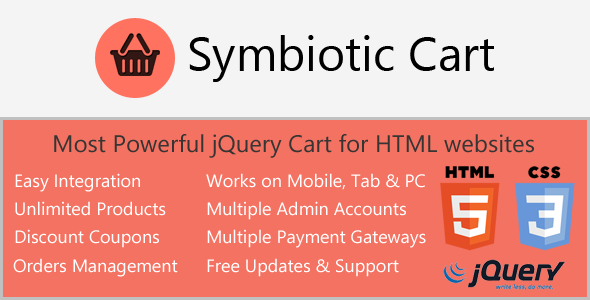 Change Log
Click here
Support
For Support please mail at my email address.Please don't ask for support in Comments.
Found a Bug ? or Have suggestion?