This is a feature-rich WordPress contact form plugin (not a form builder) which allows you to add powerful ready-made contact forms to your site in less than 2 minutes!
Yet another contact form plugin!
Nope!
There are indeed many contact form plugins available but what makes this one different is the amount of built-in features it offers, ease of localization, code quality, update frequency, minimized dependency on 3rd-parties like jQuery plugins and frameworks, use of progressive enhancement techniques, and above all our top-rated support!

So really don't think twice, if you need a contact form choose this plugin, you'll love it!

Do not buy this plugin!
If you need a form builder plugin, do not buy this plugin please; this is just a "Contact us" kinda plugin.
Here are top reasons why!
| | |
| --- | --- |
| | 2 minutes to setup, integrate, & style! |
| | Fat-free! No crap included to increase sales! |
| | Works with any theme! |
| | Ready-made CSS3 styles! |
| | Visual Composer support! |
| | Unlimited number of forms |
| | Shortcode & widget support |
| | Multiple recipients, with CC & BCC |
| | File attachments, plus validation |
| | Spam, CSRF & XSS protection! |
| | Optional anti-Spam flood protection |
| | E-mail & IP address blacklists |
| | Built-in image CAPTCHA |
| | Built-in hidden CAPTCHA (honey pot) |
| | Built-in riddle CAPTCHA (localization-ready) |
| | Customizable form field labels! |
| | Customizable submit button text |
| | Customizable e-mail subject & body! |
| | Customizable automatic response! |
| | Customizable subscription notification! |
| | Customizable subscription verification! |
| | Customizable newsletter field label |
| | Compatible with WPML, qT, etc |
| | Very small front-end only PO file! |

     

| | |
| --- | --- |
| | SMTP support (with TLS\SSL support) |
| | Customizable "From:" header! |
| | Plain text & HTML support |
| | Optional redirection on success |
| | Optional last name requirement |
| | Automatic subscriptions |
| | Optional subscription notification |
| | E-mail address verification |
| | Per-form configurations |
| | Web accessibility best practices |
| | Optional WAI-ARIA landmark roles |
| | Progressive enhancement |
| | Unobtrusive JavaScript\AJAX |
| | Unobtrusive client-side validation |
| | Mobile-friendly |
| | Retina-ready! |
| | Optimized CSS, HTML, and JavaScript |
| | Minimum HTTP requests |
| | Least 3rd-party dependencies possible |
| | Optional "no relay" (iPage, GoDaddy, etc) |
| | Semantic structure |
| | Automatic updates |
| | Top-notch support! |
| | And really really much more… |
Available fields
Please note, this plugin offers only these fields and you cannot add custom fields as this is only a contact form plugin, not an all-in-one form builder plugin like for example NinjaForms.
Name (with optional full name requirement)
Phone (you can choose to use HTML5 "tel" field type)
Email (you can choose to use HTML "email" field type)
Recipient (very versatile, indeed one of the features that makes this plugin one of the best)
Address (street, city, zip, state, and country)
Message
Attachments
CAPTCHA's (Image, honey pot, and riddle)
Send a CC
Subscribe newsletter (for CSV export, no Mailchimp API integration yet)

Screencasts
Do not buy this plugin if you are hosted with WPEngine
This plugin does not (actually cannot!) support WPEngine, neither do we recommend this host as they have a cache system that just makes no sense. (warning to developers: WPEngine caches $_SESSION and $_COOKIE
)
Do you need more features?
Sure! send your feature requests via this page.
What our customers are saying about it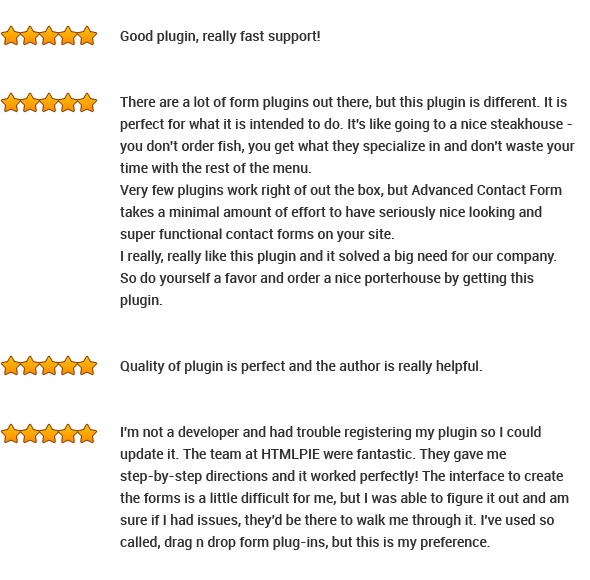 Get notified of updates
Follow us to get notified of updates, new and freebie stuff and more!
Please do NOT use the comments section for support requests, use the "Support" section instead. Thank you!