Accomodo is an online vacation rental management software built on PHP, MySQL with Codeigniter framework. Accomodo, the vacation rental booking website helps people who want to rent out their extra space including vacation rentals, apartment rentals, home stays etc and travelers who seek homely atmosphere to stay. Hosts can add their space description, offers, rules etc. The users can search rooms based on location, can compare the best available rooms, prices. The admin can check the user reviews and can add their favorite place to wish list. The accommodation reservation script provides a showcase for hosts to publish and list their homes. This is an online vacation rental management system for your users to streamline booking and reservation process, and to simplify your in-house rental management procedure.
How Rental Software Script Help Your Online Vacation Rental Business
Attract new guests
List your property information
Upload photos of your property
Update availability of rental property
Show your availabilities
Promote your location
Collect reviews
Easy Payment method
Display costs and rates
Manage reservations and bookings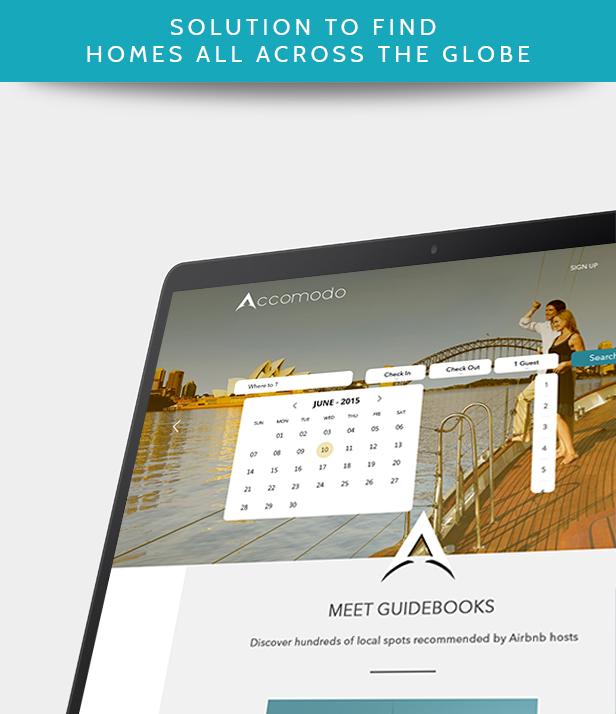 Highlights
Google API based search
Business Ready listings
100% Responsive
Classy Sign up
Smart search
Locate Nearby  Rooms
Can Set Wish lists
Review and Rating
PayPal Adaptive
SEO friendly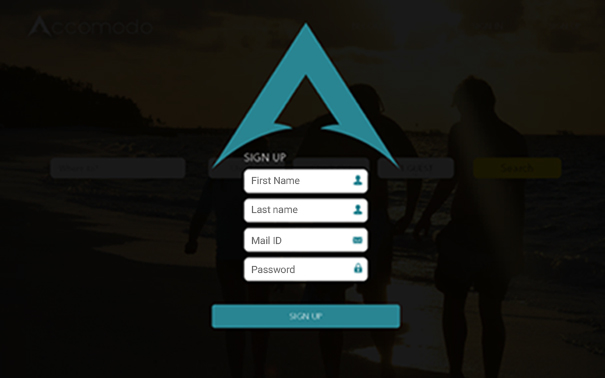 Accomodo, Rental management services platform inspired by Airbnb is an innovative tool for users as well as the rental property owners to simplify the booking and reservation process. If you are looking for an instant vacation rental website, Accomodo is the best solution to onboard your business online.
Accomodo is applicable in these businesses:
Event management
Fitness Center
Boats and  Yacht Renting
Renting office space
Multiple Hotel Bookings
WEBSITE DEMO URL
LOGIN DETAILS
Username: user@gmail.com
Password: 123456
ADMIN PANEL LOGIN DETAILS
url: http://demo.accomodo.in/admin
Username: admin
Password: admin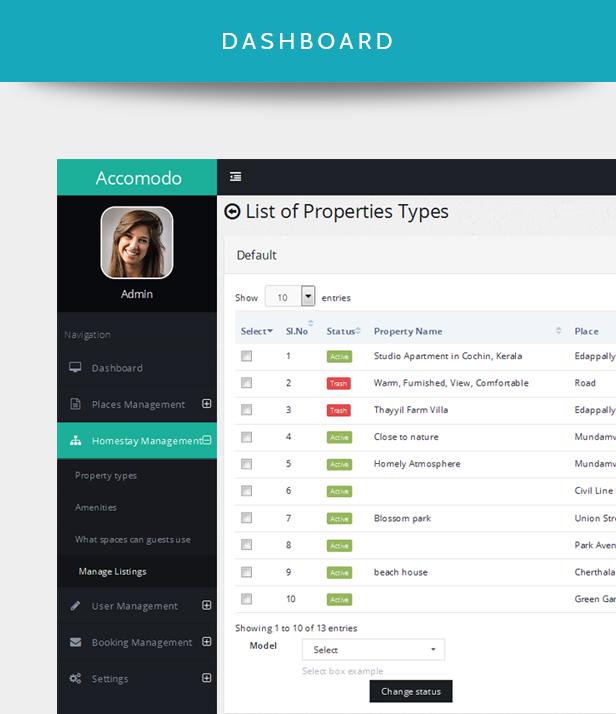 Other additional features that can be customized in Accomodo
Customization for uploading videos.
Customization for invite friends using Google+ and Facebook.
Customization for SMS Integration.
Customization for Email notification.
Customization for payment integration.
Customization for language translation.
Customization for Hosts to block any specific hours or days.
Customization for setting Time limit for service hours by host.
Customization for Social Login.
Customization for Multiple admin.
Customization for Similar Listings.
Customization for Pre-Approval Process for host.
Customization for Admin to earn via Commission Fee, Processing Fee and Property Listing Fee.
Customization for Android and IOS mobile App.
We can customize Accomodo, the Online Accommodation Booking Script to your unique needs. If you need any customization for this Vacation Rental Software feel free to contact us round the clock at support@codeinfotec.com or visit us at www.codeinfotec.com.
How we work!

We are a software development company with experience in providing top-notch software solutions to the Vacation Rental Industry. Building software is easy to do, but building the right software for your vacation rental business is something you should leave to Codeinfotec Solution. We know your needs and we always work for that. We bring all the tools you need to run a successful vacation rental business.
FOR PRODUCT ENQUIRIES OR PRE-PURCHASE QUERIES
Mail to support@codeinfotec.com with your enquiry details
Our agent will reply back you in 24 hours or
For live chat support, visit https://demo.techlabz.in/support and chat to our agent. Ticket id is mandatory to chat with our agent.