Collections of Best WordPress Plugins For Advertising Management.
Banner Manager for WordPress
Banner Manager Pro is a plugin which allows you to manage and sell banner spots on your WordPress website. You can set as many different types of banners as you wish, sell them directly to advertisers, and accept payments through multiple payment gateways (PayPal, AlertPay/Payza, InterKassa, Authorize.Net, Skrill/Moneybookers). You don't have to pay any commission fee to ad networks, because now you can work directly with advertisers. It's really easy: install the plugin and start making more money today!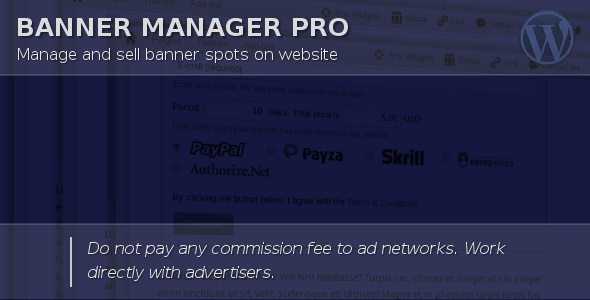 WordPress Corner Peel Plugin
Stop annoying your visitors with popups and intrusive advertising. With the Corner Peel Plugin you can add advertising to the top right corner of your website without interrupting the visitor's browsing experience. Create advertisements in 3 simple steps. Corner Peel is responsive and will remain visible (sticky) throughout the website.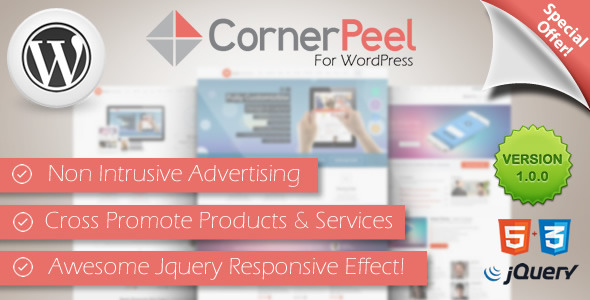 Advert Flap Pro – Wordpress
Ad Flap Pro is an animated advert for Wordpress sites. It is one of the most effective ways to get your message or advert out to people on your website, without being too intrusive. It animates in initially so that users notice it, and then waits to be clicked. The user can close it at any time to remove it from the screen.
It's perfect for special offers, cookie notices, important news, new products etc.
---
229 Sales $24

602 Sales $10

8759 Sales $29

5373 Sales $13

422 Sales $22

191 Sales $22

55 Sales $16

529 Sales $22

276 Sales $19

131 Sales $11

396 Sales $21

26 Sales $18

215 Sales $30

24 Sales $20

7 Sales $16

21 Sales $18

44 Sales $16

3 Sales $18

48 Sales $16

1060 Sales $58