Beautiful CSS3 Tabs Menu interface or horizontal structure navigation for web design and development.
Pure CSS3 Responsive Tab
Pure CSS3 Responsive Tab – is a lightweight CSS3 plugin which optimizes normal horizontal tabs to accordion on multi devices like: web, tablets, Mobile (IPad & IPhone). This plugin adapts the screen size and changes its action accordingly.
Tabbed – HTML5 & CSS3 Responsive Tabs
Tabbed – HTML5 and CSS3 Tabs are made for any occasion and easy implementation with quick customization possibilites. If you wish to spice up your corporate website, blog, ecommerce site or a message board, with Tabbed it's easy to show any content, video, price or data tables, form or other elements.
Circular CSS Tabs
ALTERNATIVE TABBED VIEW TO DISPLAY MORE CONTENT ON A SINGLE PAGE. Great for small, one page websites too.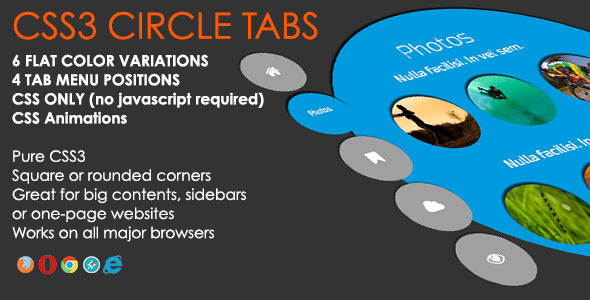 Suzi – Animated Tabs And Accordion Menu
---
353 Sales $5

730 Sales $5

112 Sales $5

806 Sales $5

476 Sales $5

73 Sales $2

1992 Sales $5

76 Sales $4

791 Sales $7

15 Sales $4

109 Sales $5

54 Sales $4

108 Sales $4

1191 Sales $4