UPDATE COMING SOON, VERSION V 4.0 – Multi-line Tabs, Lightweight Responsive and Mobile Grid and much more. CHECK LIVE PREVIEW!
LAST UPDATE : Version 3.5 – 10 May 2013
FREE UPDATES and Full Support
The brand-new version (v3.5) of Zozo Tabs is Fully responsive and Touch-Enabled using HTML5 and CSS3 standards for impeccable speed and performance on desktop browsers and most importantly on mobile browsers. It runs and feels just like a native app!. Also allows you to scroll automatically to top of page when clicking on tabs/dropdown menu on smaller screens to show your content.
Zozo Tabs is a lightweight and highly customizable jQuery plugin to provide full tab functionality that can be integrated into your site/blog quickly
without writing any code
. Some of it's
key features includes:
such as
horizontal and vertical tabs
, Deep-Linking,
10 Flexible ways to position
, Powerfull API,
10 unique themes
and more. Did we mention it works also on older browsers such as
IE7 and IE8?
New Features in Zozo Tabs 3.5
Latest version of Zozo Tabs is version 3.5, visit changelog to learn more. Once you have bought the product you have access to FREE updates. If you have any suggestions on how to improve Zozo Tabs, please let us know! We will seriously consider any suggestion and add it to the next update list.
Now fully responsive with it's unique responsive features with crossbrowers and cross-device support
Mobile dropdown menu with touch enabled and CSS3 Transitions
New animations effects with fallBack to jQuery completely rewritten, slideH, slideV, fade
Support for jQuery easing plugin
Lighter weight, more efficient JavaScript and CSS
Tested and compatible with iPad, iPhone (IOS), Samsung Galaxy S3, Samsung Note 2 (Android)
Zozo Tabs Features
Responsive Design – Zozo tabs has unique responsive features with Cross-browser and Cross-Devices support, fully compatible with Tablet, Desktop and Mobile. The layout of the components are scaled according to resolution of the device, thus more consistent regardless of the device, view Responsive Demo
Mobile Dropdown Menu – Tabs are display in a dropdown menu with touch enabled and CSS3 Transitions for mobile and tablet devices, view Mobile Tabs Demo
10 Flexible ways to position – Tabs are very flexible and customizable, horizontal and vertical Tabs and it can be positioned in 10 Flexible ways, (top-left, top-center, top-right, top-compact, bottom-left, bottom-center, bottom-right, bottom-compact), view orientation and positioning demo
Theming/Styling – Comes with 10 built-in themes that are ready to go (white, crystal, silver, gray, black, orange, red, green, blue, deepblue), view themes demo. Also comes with two style normal and underlined tabs. All themes are optimized for mobile and tablets devices. view underlined tabs demo. All themes and stlyes comes in 6 different sizes (mini, small, medium, large, xlarge, xxlarge), view sizes demo
10 Examples/templates – Included so that you can see how to implement these in your own website or project
Animation – there are three animation effects (slideH, slideV, fade, none) and adjustable speed. Animation is done in CSS3 Transitions or jQuery and also supports jQuery easing plugin for advanced easing. view animation demo
Deep-Linking – Zozo Tabs is bookmarkable and also supports deep linking. Makes URL automatically change when you select tabs and you can easily link to specific tab with hashtag. Tab ids are adjustable and SEO-Friendly. Deep linking is also supported with multiple tabs instances on the same page.
Powerfull API – Zozo Tabs has a lot of public methods which you can use to control the tabs (select, first, last, next, previous, add, remove, setOption, etc.) view public methods demo and callback events (select, deactivate, etc) view callback events docs. These functions and callback events are great for developers that need additional control of the tabs behavior to integrate the plugin into their own apps and sites.
Nested and Multiple Instances – Multiple and nested tabs tabs allowed on one page and can have different themes and options without any conflict
Cross-browser Support – Zozo Tabs supports all major desktop browsers (including IE7, IE8, IE9, IE10, Chrome, Firefox, Safari, Opera) and mobile browsers. We have tested it on iPad, iPhone (IOS), Samsung Galaxy S3, Samsung Note 2 (Android)
Event/Action – Zozo Tabs supports click/mousehover to select a tab. If the devcice has suppport for touch (mobile and tablet devices), it will use the native touch event for faster and smoother performance. There is no 300ms delay or scrolling issues like some other tabs/sliders/accordions.
HTML Content – Put absolutely any HTML content inside each Tab content (Images, Audio, and Video).
Documentation – Fully documented and step-by-step guide provided to help you get up and running with Zozo Tabs. View extended online documentation at docs.zozoui.com/tabs
CSS3 and HTML5 – All content is allways accessible to search engines and markup semantically correct to help you achieve the best possible SEO-friendly results even without JavaScript enabled.
Orientation – Zozo Tabs suppports horizontal and vertical Tabs, view orientation demo
External linking – You can put a external link or any type of link to each tab.
Autoplay support Automatically animate through Tabs when visitors arrive on your website. You can set interval time of autoplay and optional stop on hover/click (smart autoplay), view autoplay demo
Codeless creation & customization with HTML5 data attributes
Automatically Scrolling – When clicking on tabs/downlown menu on smaller screens, it will scroll automatically to show your content.
Free support and Updates – Zozo Tabs is now in its 3rd version, and each of these updates has been free. Zozo Tabs is always under development, frequently updated and continues to offer more features and improvments with each new release. Even if the value of Zozo Tabs increases via updates, you will get them for free. Stay tuned and keep in touch.
Support
You also get free lifetime support and updates. If you have any questions, ideas or suggestions, please feel to contact us at
support@zozoui.com
. Please do not post support questions here under the item comments. .
What are buyers saying
"ZoZo UI Tabs is a fabulous tool!
,The support was quick and the developer stayed with my correspondence until I completed the project. Fabulous tech support and a great developer! Thanks again ZoZo!"
—KArgent
"A fantastic script that I've used a number of times in different situations. Support from the developer has been superb!"
—Mark Warner
"Hey Zozo – What a great little script. Fantastic. The documentation is great too.. Thanks again for such a well written script and docs"
—Burt Gordon/Runner2009
"Thanks for your help. Have just given you a full star review "
—FireBubble
You can find more reviews from real buyers in Comments Page
If you enjoy this plugin please take a minute rate it & share it!. The majority of buyers rate it 5 stars if you are rating it with less than 5 stars please drop us a mail why it didn't achive a full score and what could be improved in your opinion.
Download Package
Source and Minified JS
Source and Minified CSS
Documentation
10 Examples
Release Notes
UI Components by Zozo UI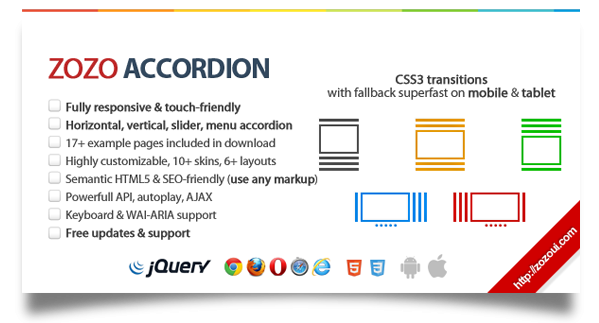 Analytics