The BEST Parallax Image & Video Addon For Visual Composer
Video & Parallax add-on allows you to easily add image parallax scrolling effects and video backgrounds to your WordPress site. The plugin integrates straight into Visual Composer's row settings, and is flexible to suit your theme's design.
Just activate the plugin into your WordPress theme and video & parallax background images will become available for Visual Composer rows. Create normal or full-width backgrounds, and backgrounds that span multiple rows.

Works in any theme with Visual Composer
When you click on the edit button on your rows, you will see these new parameters added: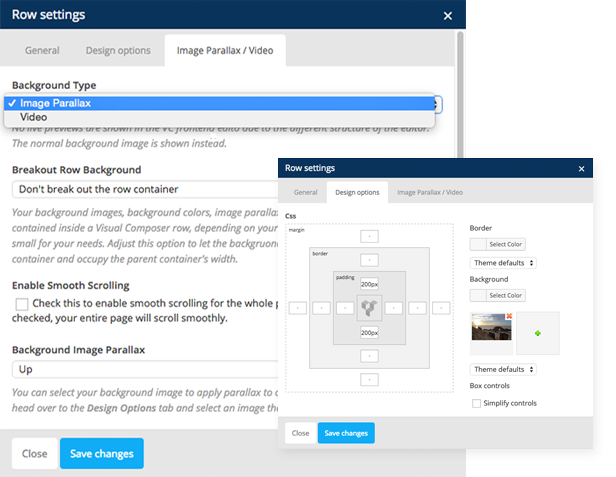 Just add a large background image to your row using the normal method, then select a Parallax Direction and you're good to go. Or, just paste in the video ID of your YouTube or Vimeo video.
Features:
Video Backgrounds, YouTube or Vimeo
Parallax in four directions: up, down, left and right,
Plug and play, just activate the plugin along with Visual Composer,
Option to enable smooth scrolling,
Option to break out of containers, to allow your video or parallax to occupy more space, or even the full browser width,
Option to span a video or parallax background across multiple rows, for the ultimate layouting experience,
Option to turn off parallax in mobile devices,
Translation files included: English .mo and .po files, and
Integrates perfectly in the Visual Composer interface
Uses requestAnimationFrame for smooth animating
As Seen In
Total – Responsive Multi-Purpose WordPress Theme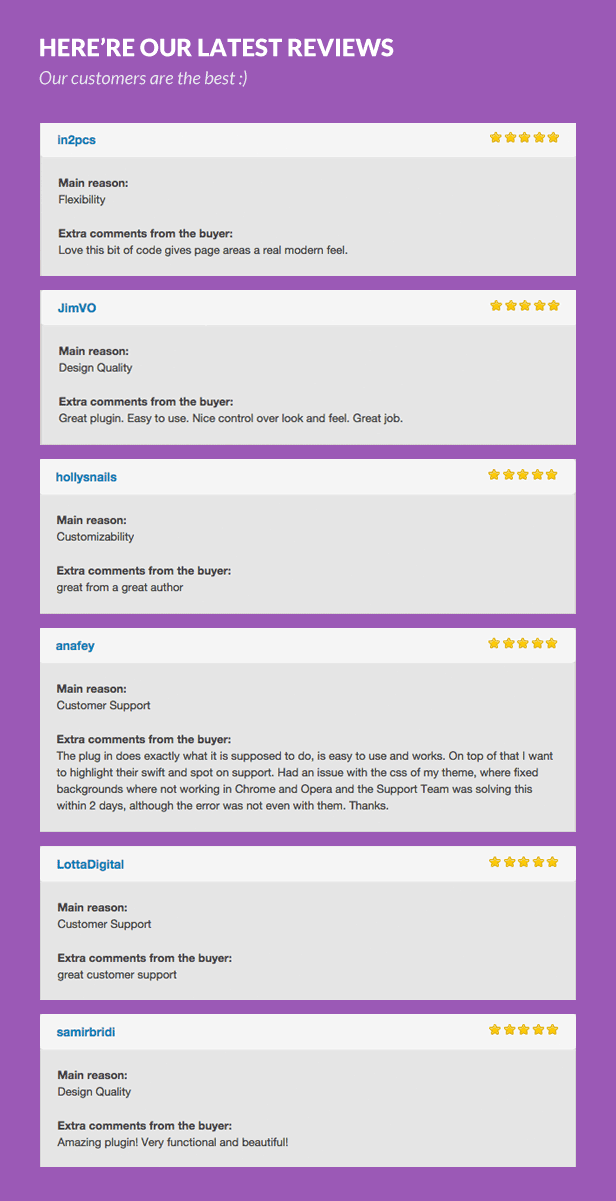 Parallax Background Is Now in the List of Visual Composer Addons!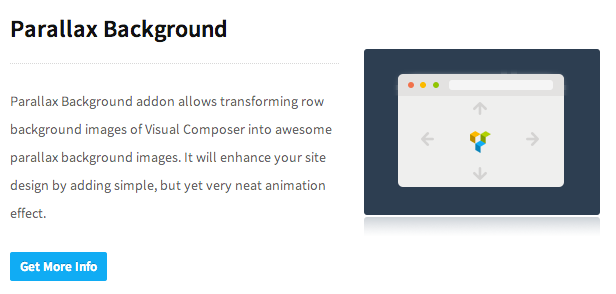 Want to Include Video & Parallax Background Images in Your ThemeForest Theme?
You can just include this item as a plugin which your customer can install and active along with your theme.
If you want to include this item in your ThemeForest WordPress theme, please purchase an extended license and send me a message through my profile page.
Live WordPress sandboxes are provided by the awesome WP Demo
Check out Our Other Visual Composer Addons



Updates
Version 2.8 – September 23, 2014
* Fixed bug in IE 11 for Windows 7 where the video background
* Fixed bug in the frontend editor where adding a parallax to a row removes the background image
* Fixed bug where resizing the browser smaller with smooth scrolling on prevents the window from fully scrolling to the bottom
* Since VC's frontend editor & the real frontend are structurally different, live previews of the parallax will not show up. However, the row's background image will still show up
Version 2.7
* Fixed compatibility issue with some themes (Avada among others) regarding Modernizr (Thanks Manishie!)
* Fixed issue where defining GAMBIT_DISABLE_RATING_NOTICE doesn't remove the plugin notices
* Fixed bug where in some setups, br tags appear and break the outputted html
Version 2.6
* Emergency update: Fixes bug where background videos did not resize correctly
* Added plugin links
* Added first time activation instructions
Version 2.5
* Added options for specifying the background alignment (left/right/center for vertical parallax and top/bottom/center for horizontal parallax)
* Since video backgrounds are not supported in mobile, added fallback background image for those using VC's background image setting
* Fixed bug where background videos sometimes did not work
Version 2.4
* Added the option to enable smooth page scrolling!
* Parallax scroll speed optimizations
Version 2.3
* Fixed bug that prevented the Video & Parallax tab from showing up in lower versions of Visual Composer
* Added better documentation
Version 2.2
* Added new video options for fixing vertical and horizontal black bars
* Added a YouTube option for fine tuning the loop timing (Vimeo already does looping well)
* The row background color is now copied over to the parallax background, great for transparent background images
* Fixed bug where a test variable was left and causing errors to show up in debug mode
* Fixed bug where inputting a video ID then setting back to parallax still shows the video
* Fixed some minor javascript undefined notices
* Segregated scripts and styles to their own files
* Cleaned up all Javascript code with JSHint
* All styles and scripts are now minified
Version 2.1
* Fixed bug where the original background image was still being shown behind
the parallax in Visual Composer 4.1.3
* Added clearer instructions on where to add the background image
Version 2.0
* New feature: video backgrounds!
* Fixed bug where bottom margins were not being used when spanning multiple rows
Version 1.9
* Fixed bug where in certain WP setups, the parallax field does not appear
* Parallax parameters now do not have conflicts if other parallax addons are currently installed
* Placed additional information for the parallax fields
Version 1.8
* When used in Visual Composer 4.1.x, the parallax options are shown in the Parallax tab
* Now compatible with the new edit row layout introduced in Visual Composer v4.1.x
Version 1.7
* Better animation performance, now achieving x1.3 - x2 fps from requestAnimationFrame
* Better handling for the down direction
* Fixed bug where the down direction had the wrong image offsets
* Fixed bug where gaps sometimes appeared for rows with negative margins
Version 1.6
* Fixed bug when the parallax in some themes fail to break out of its container width properly
* Fixed bug margins were not being taken into account for the parallax width
Version 1.5
* Added ability to span across multiple rows
* Fixed bug where background-size properties weren't being followed
* Fixed bug where unnecessary html was being generated for non-parallax rows
Version 1.4
* Now applies background-attachment: fixed to up and down directions for less jitter
* Fixed bug where background-repeat properties weren't being followed
Version 1.3
* Added ability for parallax to break out of it's containers
* Added an option to disable / enable the parallax effect on mobile devices
Version 1.2
* Rewrote script
* Now supports up, down, left and right parallax scrolling
Version 1.1
* Bug fixes regarding start position and floats turning into ints
Version 1.0
* First release