Reviewer WordPress Plugin
The Reviewer WordPress Plugin allows you to insert reviews and comparison tables inside your WordPress blog posts and pages in a quick and easy way. The plugin flexible structure allows you to create any review type: no limits, just create a review template and insert your personal review inside your posts or pages. The plugin offers 8 customizable themes so that you can adapt your reviews and comparison tables to your need. Each theme has a responsive layout to adapt to any devices resolution such as smartphones and tablets. The plugin supports users rating so blog visitors can leave their reviews. Read the list in the next sections to know all plugin features.
Updated on March 15, 2014
New in version 2.1.0
Added new Reviews Widget

Display latest reviews
Display top rated reviews
Display top score reviews

Bug fixed
What's new in version 2.0
Added users rating support

Rating with classic five stars ( the star image can be replace with a custom one )
Full rating ( users can express a vote for each criterion of review )

Comparison tables: create comparison tables with reviews of same template
Add Reviews back-end page: view all your review in a single view
Add Preferences back-end page: manage Reviewer Plugin settings
Improved back-end user interface and user experience
The plugin is now integrated with the new UI of WordPress 3.8
2 new gorgeous themes for reviews
Previous themes are restyled
Localization support ( available languages: English, Italian ) – You can translate the plugin in your language in few minutes
Add support for Google Rich Snippet
Bug fixed
NOTE: The plugin needs WordPress 3.8+ and PHP 5.3+ to work. Please read the documentation before installing or updating the plugin.


Features
Make gorgeous Reviews and Comparison Tables in few easy steps
Unlimited Reviews Templates
Unlimited Reviews per post
Unlimited Criteria per review
Unlimited Comparison Tables
Possibility to insert reviews and tables in posts, pages and custom post types
User rating
2 types of rating mode: five stars rating and full rating
Manage Rating Authorization
Templates Manager
Plugin Preferences page
WordPress Meta Boxes for reviews and comparison tables
8 Gorgeous and Customizable Themes
Color, labels and messages customization
Possibility to replace star icon with a custom one
Shortcodes for reviews and tables
Post Editor Button with shortcodes list of tables and reviews
Reviews Widget

Display latest reviews
Display top rated reviews
Display top score reviews

Support for Google Rich Snippet
WordPress Localization support
The plugin is fully integrated with the new WordPress 3.8+
Retina Support
Responsive Layout
In Details
Template Manager
Manage your template for reviews and comparison tebles.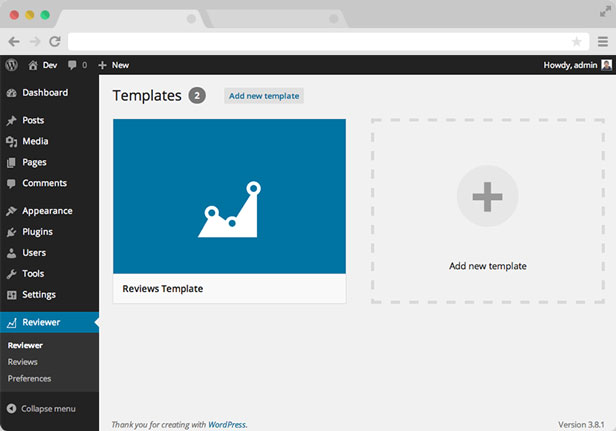 8 Gorgeous Themes
The plugin offers 8 modern themes for your reviews and comparison tables so that you can adapt them to your blog style.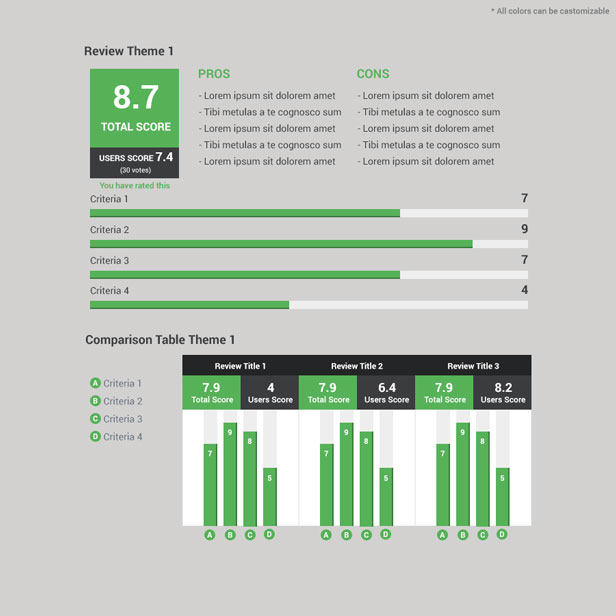 Themes Customization
Customize your template as you need: choose colors, fonts size, labels, icons, theme and more. (Check Screenshots to watch all available preferences you can customize).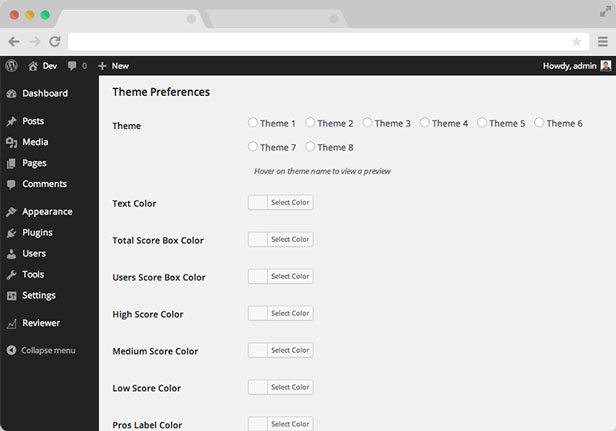 Reviews And Comparison Tables Boxes
Create your reviews and comparison tables in a quickly and easy way using the available Boxes inside post editor page.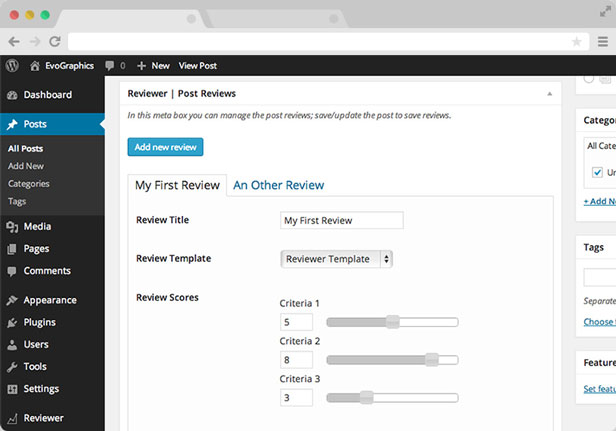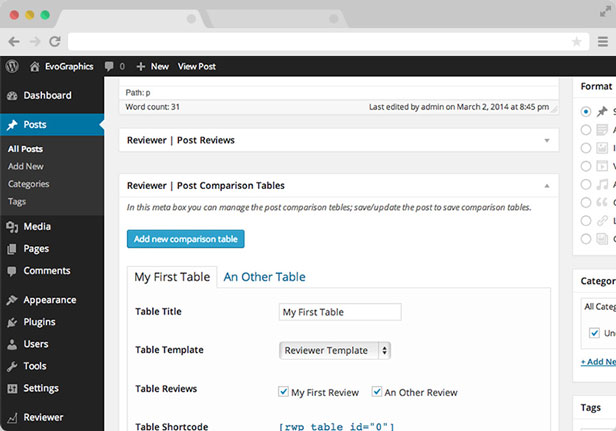 Quick Editor Button
Insert your reviews and tables at any point of your post with quick button.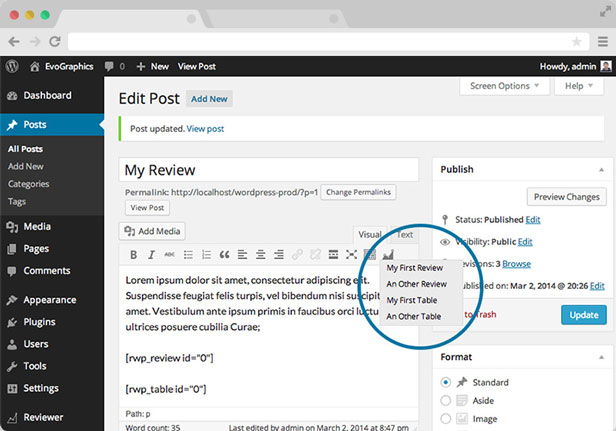 Users Rating
Your site visitors can now rate your reviews in two differt ways.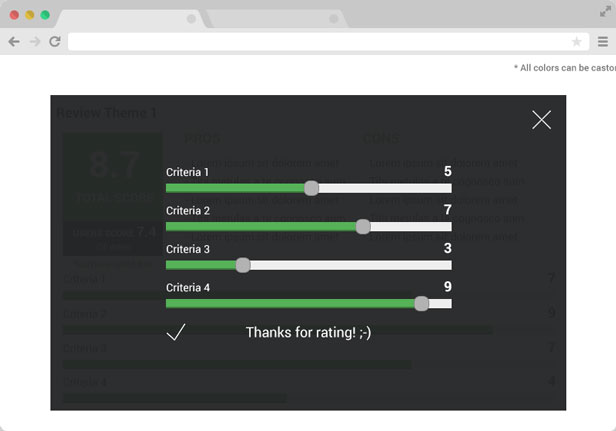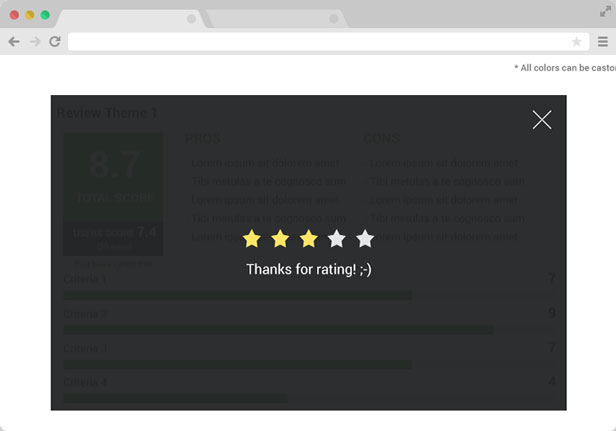 For more click on the two links below.


Change Log

Version 2.0.1 - 11 March 14
- Fixed an issue for users that have PHP 5.4

Version 2.0.0 - 08 March 14
- Added users rating support
    - Rating with classic five stars ( the star image can be replace with a custom one )
    - Full rating ( users can express a vote for each criterion of review )
- Comparison tables: create comparison tables with reviews of same template
- Add Reviews back-end page: view all your review in a single view
- Add Preferences back-end page: manage Reviewer Plugin settings
- Improved back-end user interface and user experience
- The plugin is now integrated with the new UI of WordPress 3.8
- 2 new gorgeous themes for reviews
- Previous themes are restyled
- Localization support ( available languages: English, Italian ) - You can translate the plugin in your language in few minutes
- Add support for Google Rich Snippet
- Bug fixed

Version 1.1 - 17 September 13
- Added the possibility to customize each theme:
   - Text Color
   - Total Score Label
   - Total Score Box Color
   - Different colors for High, Medium and Low Scores
   - Pros and Cons Section completely customizable (label, color, font size...)
- Improved 'Add Review Box':
   - Add slider for setting scores (a quicker way to add reviews)
   - Reviews Tabs: now all post reviews are displayed in a tab mode for a better user
experience.
- Minor bugs fixed

Version 1.0 - 9 September 13
Initial version