WordPress has a new best friend. Quform.
If you use WordPress, require custom forms and don't like wasting time or simply don't want to touch any code then this is the must have tool for you.
Quform is an advanced WordPress plugin that allows you to quickly and easily build multiple forms with total control. If it's a complex quote or booking form or just a simple contact form, Quform will allow you to do this without touching any code. In a few clicks you will have a fully functional form. It's that simple.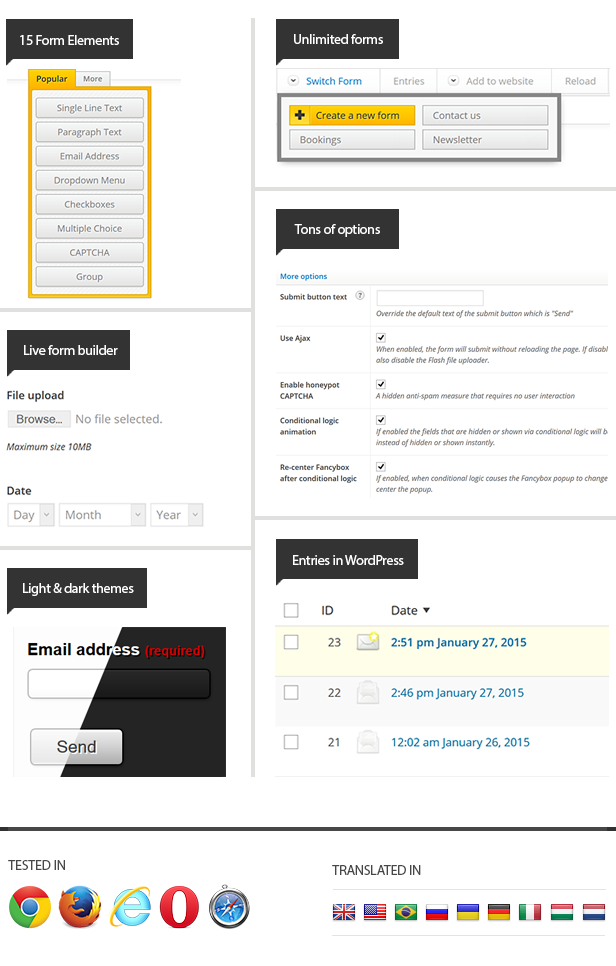 Functionality features
Some of Quforms best features
Using the form builder is made simple with drag and drop and one click functionality and it works in all major browsers. There are options and settings for the basic user and for professionals. There are far too many features to list them all here, so here are the favorites:
Create a form without knowing any HTML or PHP!
Drag and drop form elements
Fully translatable
Easy to use user interface
View submitted form entries inside the WordPress admin
Send submitted form data via email
JavaScript calendar (datepicker) with 24 themes and 62 languages
Export submitted form data to Excel / OpenOffice
Conditional logic to show/hide fields
Dynamically set form values from the URL
Fully supported form inside a lightbox
File uploads, sent as attachments or saved to the server (or both)
Preview while building
Flash upload progress
Group elements for complex form layouts
15 included element types
Conditionally set recipients based on form values
Custom autoreply
6 included filters to strip invalid data
9 included validators
Import/export forms across websites
Plenty of help and support
Fully compatible with WordPress 3.1 to 3.5.1
Styling features
Making your form look great
Not only does the Quform take care of the functionality, it can very easily make your form look great too. Quform has a unique form theming system. You can use one of our themes, create your own theme or use other peoples theme designs. For the more advanced user, you will not be disappointed with the flexibility of the styling features of Quform. You can have total control of your form design and there are plenty layout options so you can take it as far as you like.
Dark and Light themes included
Create your own themes
Easily edit the CSS of elements via the form builder
Use a variety of label placements to display elements
Uniform (Sexy forms with jQuery) included
qTip2 Tooltips with 12 included styles
Group elements to separate sections or for layout
Unique identifiers make it easy to manipulate an element
Customize inputs with onscreen color picker
Customer feedback
This is such a wonderful plugin! It accomplishes so many things we needed for our project.

The support is equally was magnificent. ThemeCatcher went above and beyond to help us integrate the plugin further into our theme. I highly recommend both this plugin and any other by ThemeCatcher! – republictech
This is the greatest plug-in I ever bought, from ENVATO! Such an easy and advanced options in the admin-panel, no experiences needed. – businesswdesign
Are you a designer? You can make Quform themes to sell
Anyone can create a form theme for Quform and it's easy. Get more information from our website and start selling.
CodeCanyon have approved the sale of Quform themes under the CSS section.
Requirements and support
WordPress v3.1 or greater
PHP 5 or greater with the GD image library and the mbstring extension (you most likely have this)
No coding skills required
NB: If you are not rating this item with 5 stars, please tell us why. We want to do all we can to let you enjoy Quform and get the most from it. Remember our support is FREE.
We've added a detailed help file to help you make any changes you need to the plugin as well extensive help throughout. If for some reason this is not enough, feel free to contact us on our ThemeForest profile if you need additional help.
License
One license can only be used on one WordPress installation at a time, but you can create unlimited forms. The license also includes free updates and support.
Due to licensing restrictions on CodeCanyon it is not possible for us to offer an "Unlimited" license.
v1.4.3 – 4 April 2013
Fixed a bug with conditionally hidden elements with custom validators
Fixed the "Browse text" and "Default text" options of the File Upload element not saving properly
Fixed the Uniform File Upload field height in IE
Fixed the shortcode Insert button not working in some situations
Why not check out the live preview?
Stay connected for updates, support and promotions