Ninja Popups combines a professionally designed popups to convert visitors on your site/blog into taking an action whether its subscribing into your newsletter, offering a discount/coupon for leaving customers, or locking content until they share you will increase your subscriber count and social signal of your site/blog.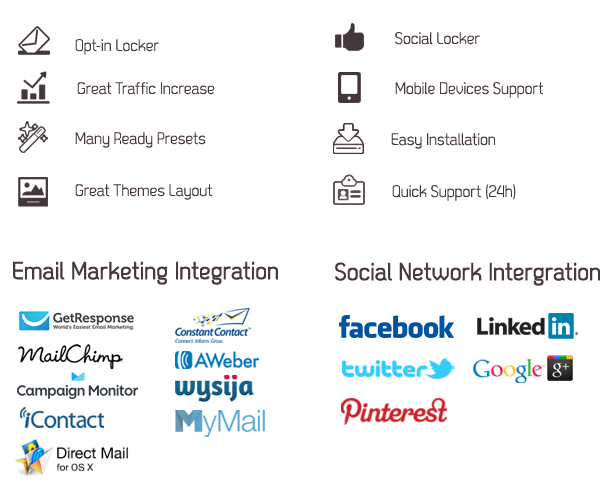 Key Features:
Easy to Configuration (No coding required!)
Great Popups Design (many color, many layouts)
Highly Customizable!
Translation Ready!
Full APi integration with mailing services
Free Upgrades
You can create Unlimited Popups
Samples Presets Included (in XML file)
Display Popup on load page
Display Popup on close/leave page
Page level Targeting (different popups for each post/page, turn popup on/off for all page or for few pages/posts)
Close button (show button: yes/no, custom close button text, auto close popup)
Social Network Locker (you can lock page)
Newsletter Locker (you can lock page)
Statistics
Time Display Settings (start date, end date)
Open Delay (open popup delay in seconds)
MailChimp Support
MyMail Support
Wysija Support
AWeber Support
GetResponse Support
Campaign Monitor Support
iContact Support
Constant Contact Support
Store Opt-ins in CSV file or Send by Email
Submit Opt-in Form to Custom Url
Facebook Support
Facebook Likebox in Your Popup
Twitter Support
Google+ Support
LinkedIn Support
Pinterest Support
Excellent Customer Support (24h)
Powered by jQuery

Changelog:

v2.0
- general fixes,
- fixes in responsive layouts,
v1.9
- responsive,
v1.8
- added: disabled welcome/exit popup for logged users,
- added: exit popup for external links in menu, sidebars, footer etc.
- fixed minor bugs,
v1.7
- Added button for shortcodes, 
- Fix for last/first name in opt-ins,
v1.6.2
- Loading text on submit button,
- renamed jquery.cookie.js to jquery.ck.js,
- general fixes,
v1.6.1
- new media uploader,
v1.6
- new themes,
- general fixes,
v1.5
- option for disable plugin columns in posts/pages list,
- fixed minor bugs,
- MyMail support,
v1.4
- Wysija support,
- fixed minor bugs,
v1.3
- AWeber support,
- fixed conflict with themes based on nhp framework,
- fixed problem with shortcode and content builder plugins,
- added autoopen param to shortcode,
- fix for links with singles quotes,
- better catching when user is leaving website  in exit popups,
v1.2
- fixed bugs in JS, 
- fixed bugs in CSS, 
- fix for windows server, 
- added Google Maps Popup, 
- fixed bug in preview.
v1.1
- fixed placeholder in IE,
- added shortcode for open popup by link in content,
- added "Redirect after opt-in",
- added column Ninja Popups in posts/pages list,
- added cookie settings.