Admin DEMO:
username: admin
password: admin

Features
Unlimited Events
PayPal Integration
Offline Booking
Multiple Bookings
Coupon Integration
Event Categories
Multiple Dates for same event
Multiple Tickets
Google Maps
Responsive Calendar Shortcode
Responsive Event Box shortcode
Responsive Event Button shortcode
List Events based on filters (eventBoxes)
Shortcode generation
AJAX Control Panel with 400+ Settings
User friendly event creation
Visual  Editor
Sandbox integration
Offline booking form customization
CSV Integration
Every thing is customizable, from text ,color,size,padding,borders,border radius and much more.
Email Template (FULL CONTROL)
Shortcodes: Calendar – Event Box – Individual Buttons – Events List
What Buyers are saying?
'Buyers… This plugin is by far the best event calendar plugin on the market and I highly recommend it!! Rarely do you find a well programmed plugin combined with simple and clean aesthetics with modern css3 elements'!
– rivusmed
'Much appreciated! You sir, rock! This plugin not only visually looks better than anything else out there, but also works better and has a great back end setup that's easy to use and understand, especially for the non-coder. Everything is customizable.'
-arcadence
'Unbelievably good support, I mean it's better than good, it is perfect. Some software that I've spent 20 times as much money on don't compare.
And the plugin works perfectly!'
- Wendorff
'... MoeHaydar provides excellent support and the plugin works flawlessly …!'
-BabyFlash


'Thank you! the plugin is awesome, and so as your support!' – nilo


'I purchased the plugin. It really is a great tool!' – bconley

'Beautiful plugin and awesome support! Thanks a bunch!'= lushcreative


Calendar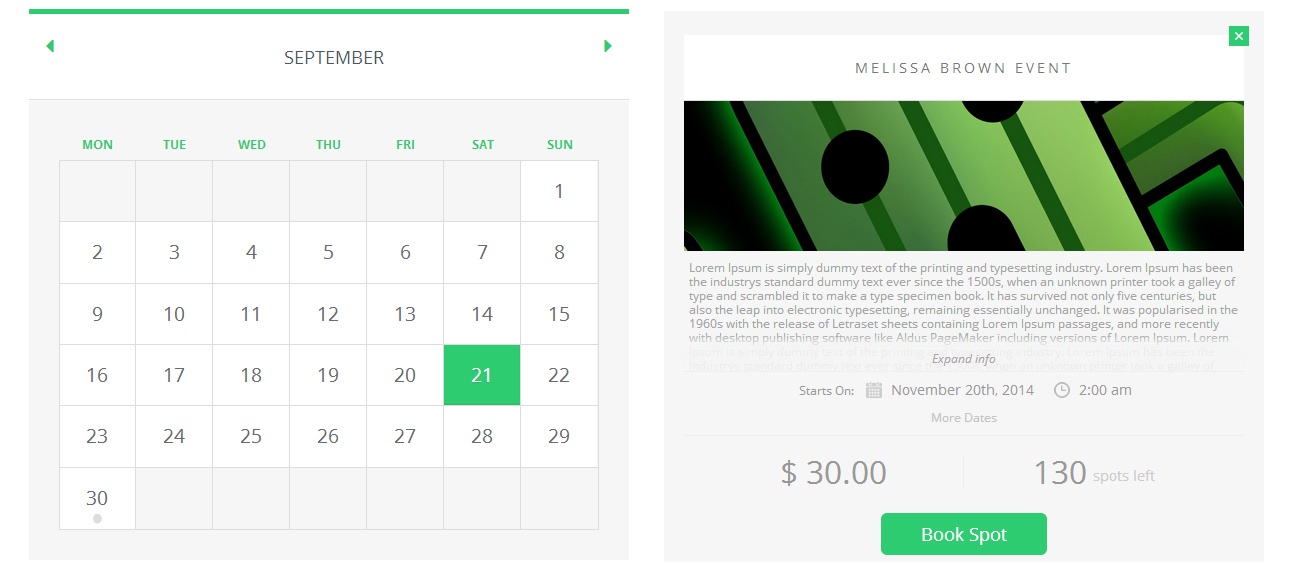 Event Box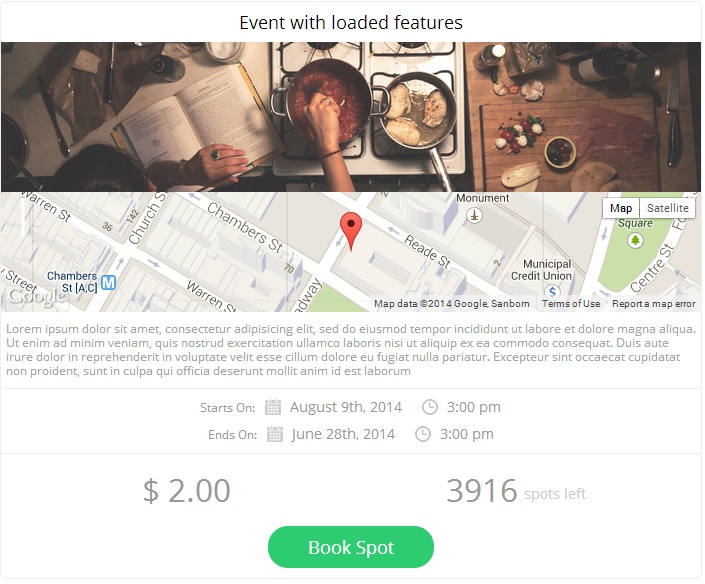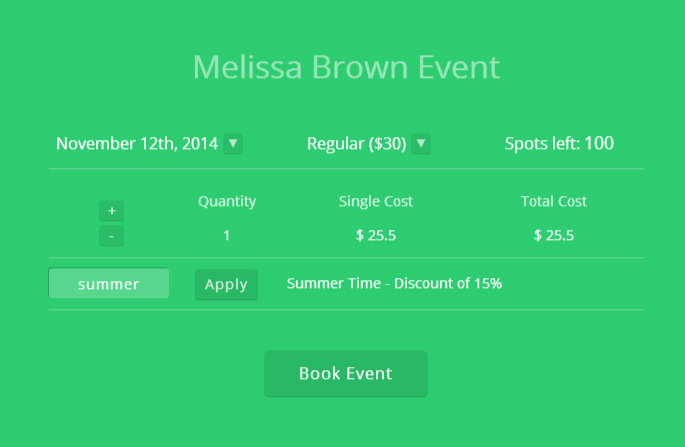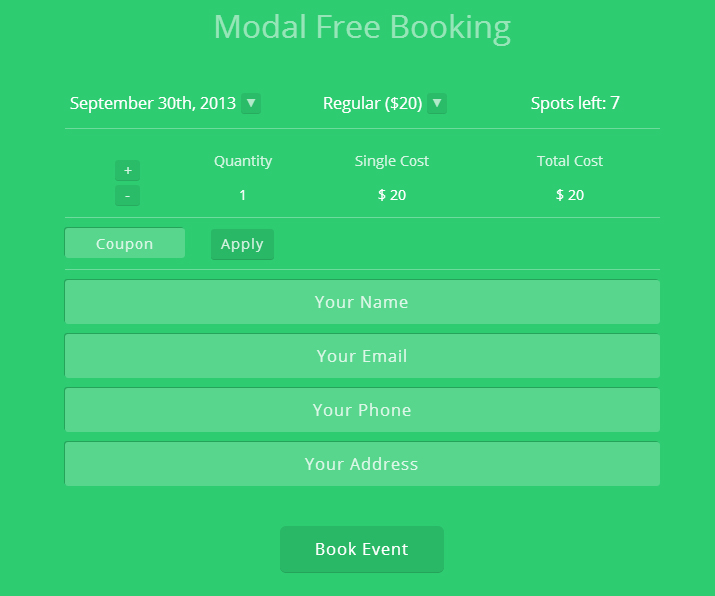 Event Creation

Coupons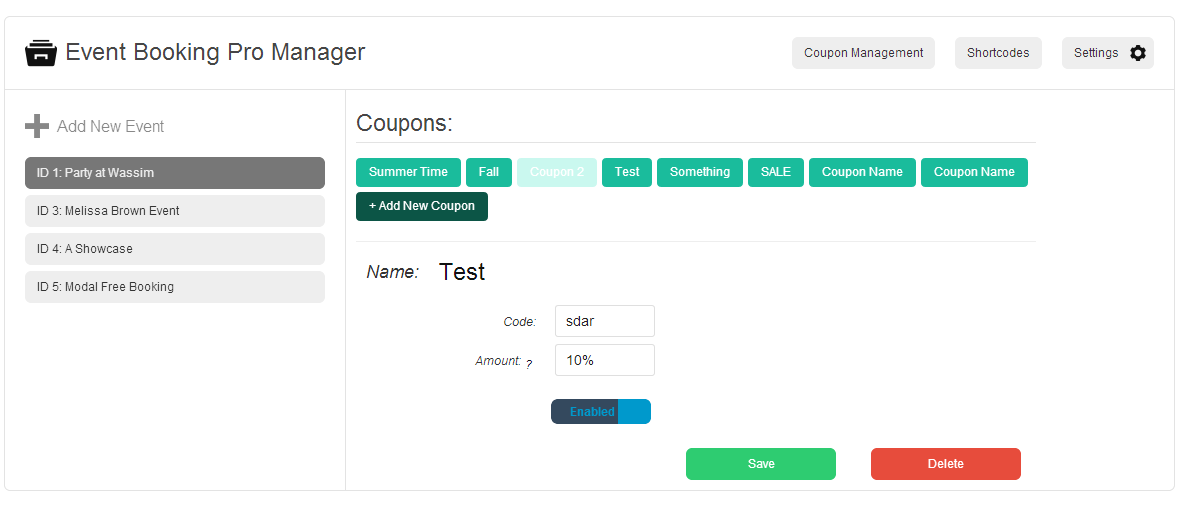 Settings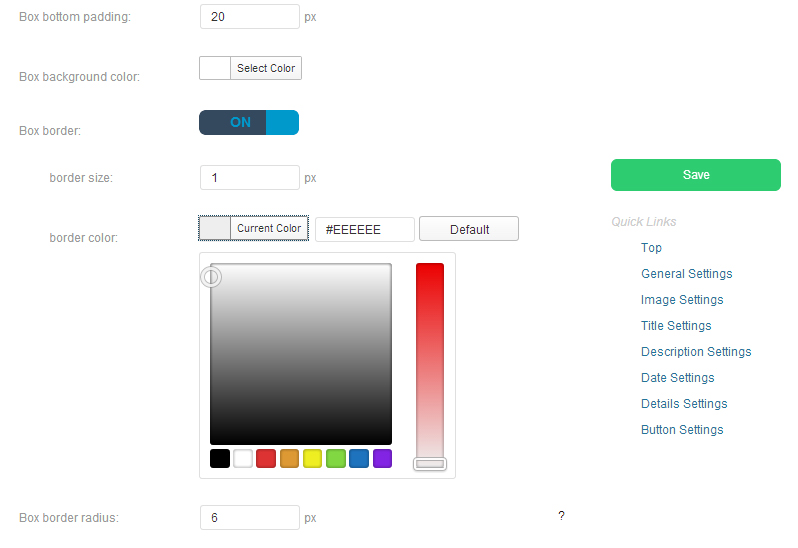 Full screenshot 1
|
Full screenshot 2
|
Full screenshot 3
|
Full screenshot 4
Change log
Buyers, if we modified any file for you then please backup your files before you do any file replacement. If after updating something isnt right, email me please!


v3.1 (4 March, 2014)
    New admin panel design.
    Added ability to add payment id to emails. 
    Fixes in email sent to you on bookings.

v3.02 (28 feb, 2014) 
       Fix for Email not sent when using paypal payment
       Date generation bug fix 

V3.01 ( 25 Feb, 2014)  
    Bug fix (important update from 3.0) 

V3.0 ( 24 Feb, 2014)       
    Even Categories 
    Email Templates (FULL CONTROL)
    FORM Manager ADD-On Capability
    Advanced Dates (Batch) Generation
    Duplicate events
    New feature: Maximum Bookings per event rather than per ticket 
    Introduction of a Visual  Editor for event Descriptions!
    Lots of new  options (example: Overlay Opacity, Overlay Color)
    Modal inputs now fully customization!
    Drop Box style customization
    Currency Options (position of the currency: before or after)
    Allow decimal prices
    Higher z-index (modal will always be on top of menus)
    Now the option to choose both types of bookings.
    Emails now work with ssl (fix for gmail emails)
    Separate Map height
    Calendar Height control
    More translation options (ex, Free, Coupon, Apply)
    Select is deactivated if only one date. (Same for ticket)
    Fixed loading text
    Coupon bug fixed
    Loader now will show if screen is short
    Enhancements of modal styling!
    Dates are verified to work! (I did structural edits on them)
    Improved CSV downloading
    Fixed Date format bug in (dates shows as D.M.Y instead of M.D.Y)

v2.7 (January, 2014)
    Added Google Maps
    Added delete booking feature
    Multiple events in one day now display in the calendar
    Booking page improvement: sortable/searchable records.
    Added scroll bar to popup
    Added closed button  to popup
    show/remove cost option added
    show/remove spots option added
    New options added allowing the plugin to be fully translated
    fix naming bug that prevented "&" letter in names
    Quantity booking bug fixed. No overbooking

v2.4  (November 11, 2013)
----------------------------------------------------
    1- BUG FIX: Offline booking Quantity was showing 1 and not the correct value.
    2- Some wordpress sites had a broken link.
        Updating instructions found in the zip file.

v2.2.1 October 21, 2013
--------------------------------
Bug with paypal payment fixed (quantity)

v2.2 
-------------------------------
    More Responsiveness!

v2.1 (October 6, 2013)
-------------------------------
    Added Coupons and Multi Tickets Enable/Disable button
    New date and time picker
    Minor bug fix

----------------------------------------------------
V 2.0 (September 22, 2013)
-------------------------------
        Coupon Integration
    Multiple Dates for same event
    Multiple Tickets
    Dramatic change in frontend, now all buttons will open a modal (pop-up) where users can customize their ticket
    Back-End enhancement
    Shortcode generation
    CSV Integration

----------------------------------------------
V1.2
--------------------------------
    Email Support
        Added Email Special Message
        Added Email Template in Settings page

    Booking
        Added Quantity Booking, now you can choose how many spots to book.

        Changed how the plugin handles bookings. Now all bookings will open the modal.
            If No-Paypal was selected a booking form will appear
            If Paypal was selcted a pay button will appear that will take to paypal

        Added the ability to customize the booking form
        Added 2 extra fields: Address and Phone
--------------------------------

V1.1
--------------------------------
    Added 3 shortcodes
        Carousel Shortcode with filterable content (Passed/Upcoming/All)
        Event list Shortcode with filterable content (Passed/Upcoming/All)
        UL List Shortcode with filterable content (Passed/Upcoming/All)
    Made Sandbox easier to use
    Added Currency Support